Award-Winning Custom Home in Rosedale
SevernWoods is thrilled to show you around our Rosedale custom home. This is one of our all-time favourite projects for a few reasons. One, it required meticulous planning and precision, which stretched our team and allowed us to shine. Two, the results are inarguably divine. We can't wait to show you around!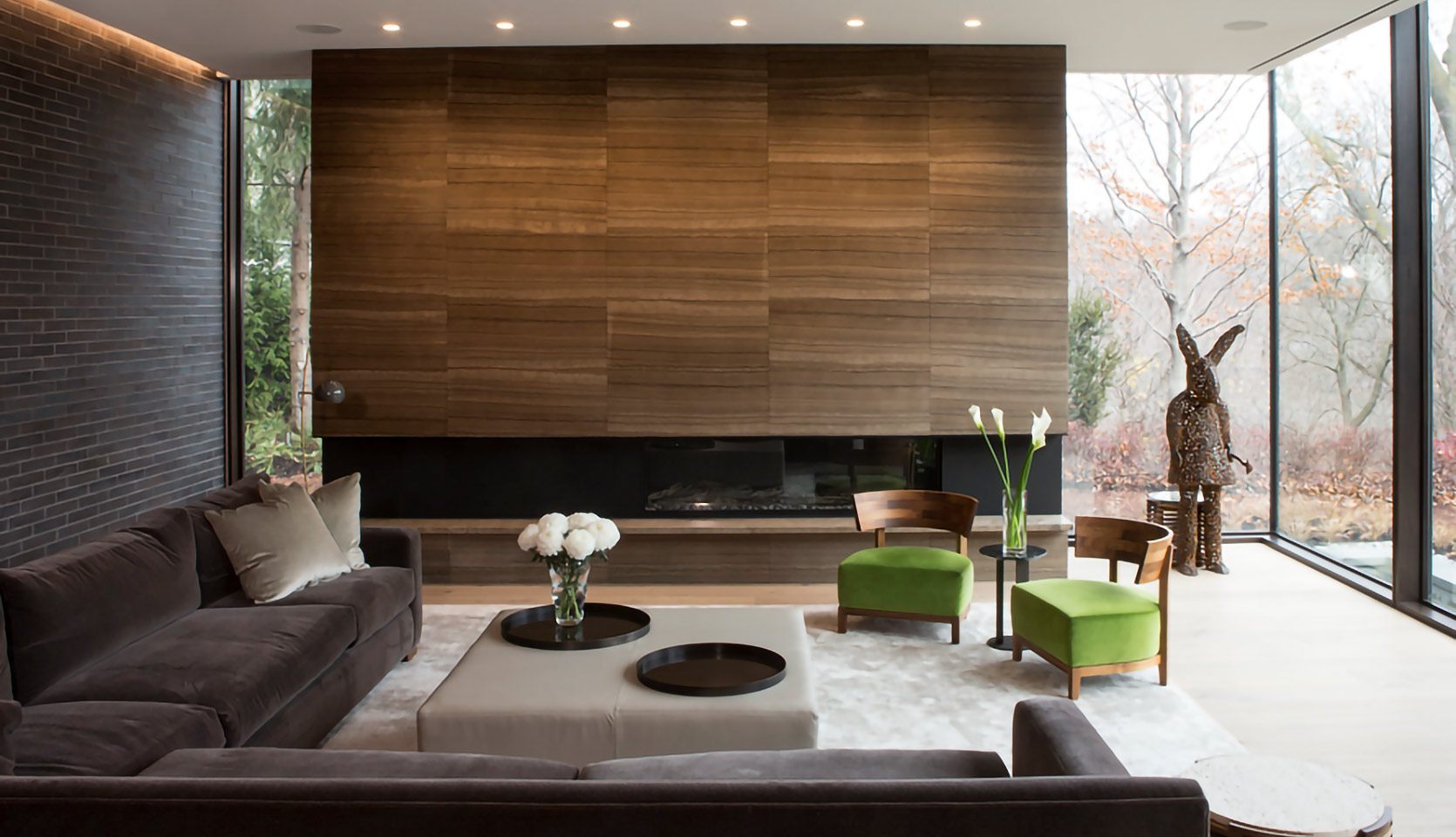 A Dream, a Handshake, and Good Cigar
Like so many works of art and acts of serendipity, the team that brought this modern-day renaissance man's family home vision into exquisite reality coalesced over an excellent cigar. Architects KPMB crossed paths with their client while designing a theatre in the Distillery District, where the client was on the board. KPMB usually focuses on commercial spaces, and its portfolio is full of large-scale projects with sleek and playful sensibilities.
Though these prestigious architects don't usually take on residential projects, our unique client, a physicist with a tantalizing vision and a skilled luxury custom home builder in Toronto for a brother, was too appealing a client to refuse. The results of this partnership speak for themselves.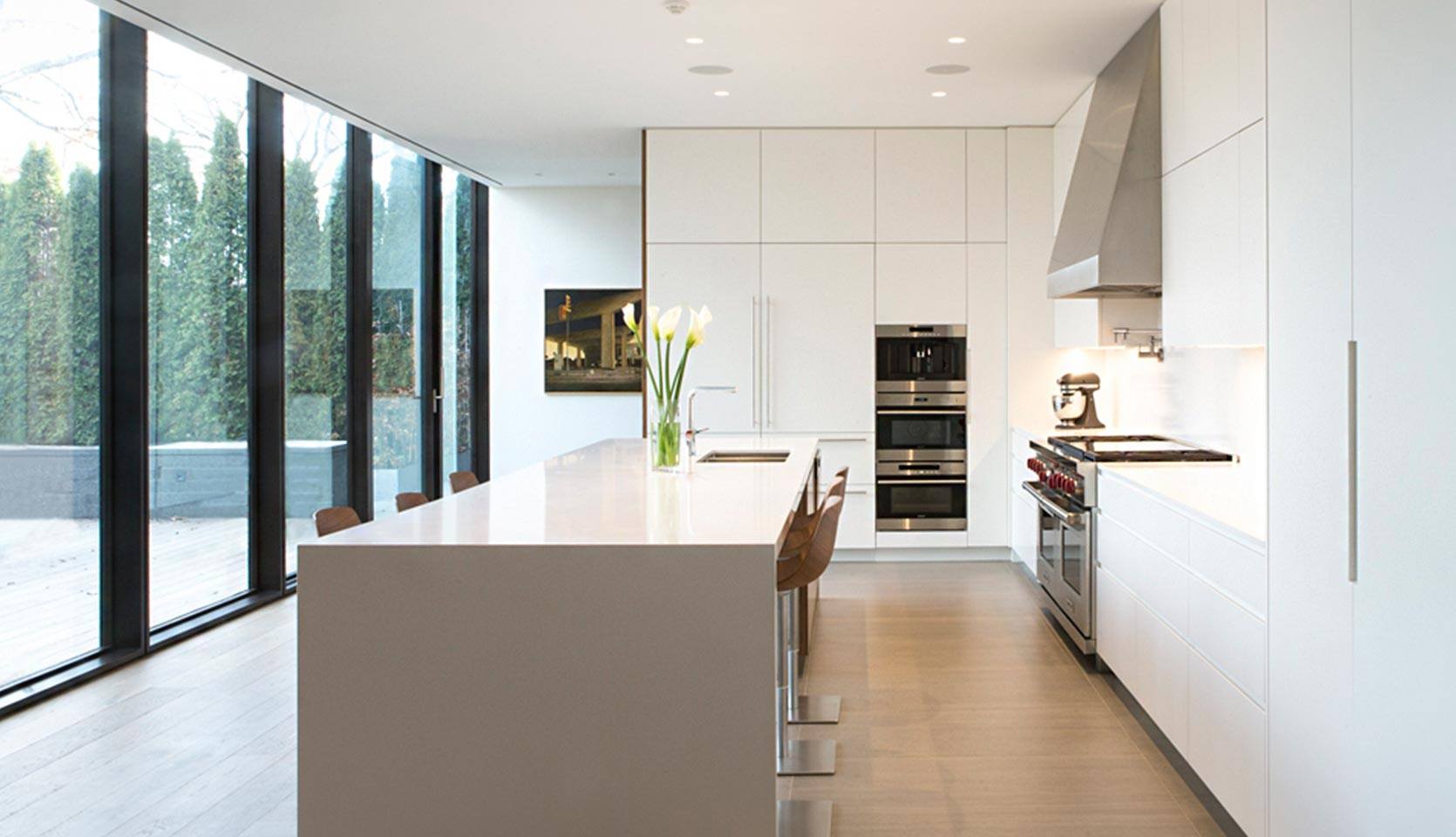 Heritage, Ravines, and Drainage, Oh My!
This stunning 10,000-square-foot home sits atop a complex lot. First, there was an existing home on the lot. Every lot in this Rosedale neighbourhood is protected by heritage, so special permission to tear down the home was required. Because the home was a 1935 depression-era home, though not a traditional red brick Rosedale affair, the applications and legal fees to secure permission for demolition and rebuilding a modern house took 3 years.
This home sits adjacent to a ravine, offering sweeping views and further complications for construction as we grappled with rain-water management. Local requirements prohibit moving rainwater off-property. However, the tableland, our build site, offered limited rainwater absorption. Sustainable water management is important to us. The rainwater management consultant originally designed a large French drain to divert and diffuse rainwater. Unfortunately, the rainwater from 5,000 square feet of the flat roof coming through 5 roof drains through centralized cast-iron insulated drainage pipes would overwhelm the original French drain during a significant rain event.
Gravity provides elegant solutions for water removal. We buried a cistern in the side yard, near the ravine, and secured permission from the city to drain the overflow into the ravine below. We hired a directional boring company to drill 150 feet down to a shallow ravine area, installed a 4-inch pipe, and fortified the exit area against erosion. All outdoor plumbing, except for exterior spigots, draws water from the cistern first to conserve water. When it reaches a set low point, city water fills the cistern, so the systems are operational in a dry spell.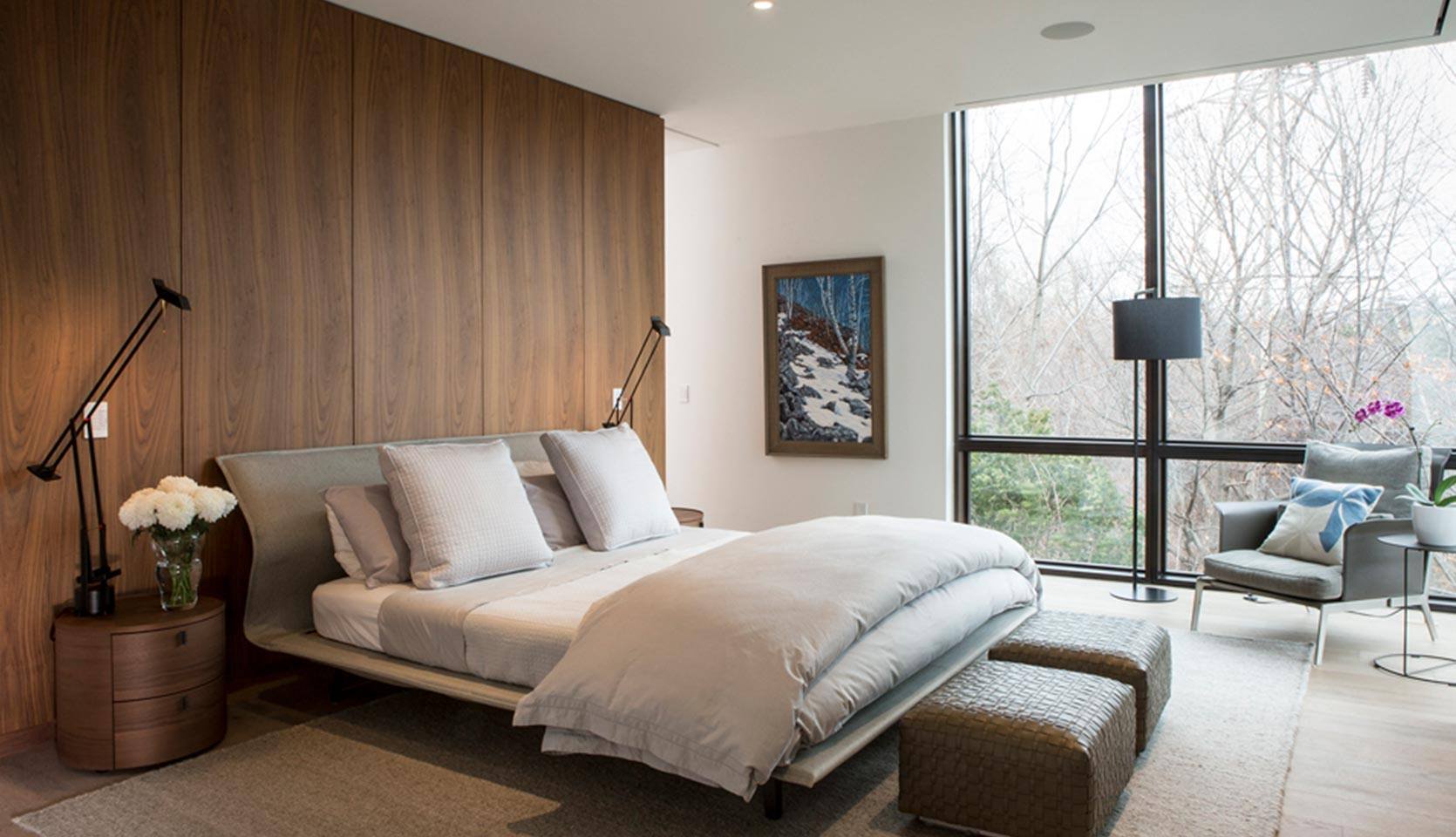 The Golden Ratio
This client of science had his heart set on a home mathematically optimized for function and aesthetics. That meant obsessively following and repeating The golden ratio in as many dimensions and iterations as possible. Ratio architecture is a fascinating undertaking. Starting with the size of each room and expanding into the flow of the floor plan, the hockey-stick shape gently moves people intuitively through space. This home uses the golden dimension to maximize the intangible feeling of this is just right. A keen eye will notice these proportions repeated throughout the design, just as they are in nature. The blackened stainless steel screen features holes resembling a sunflower, whose seed distribution adheres to the golden ratio. The height and width of many exterior proportions are also derived from the golden ratio.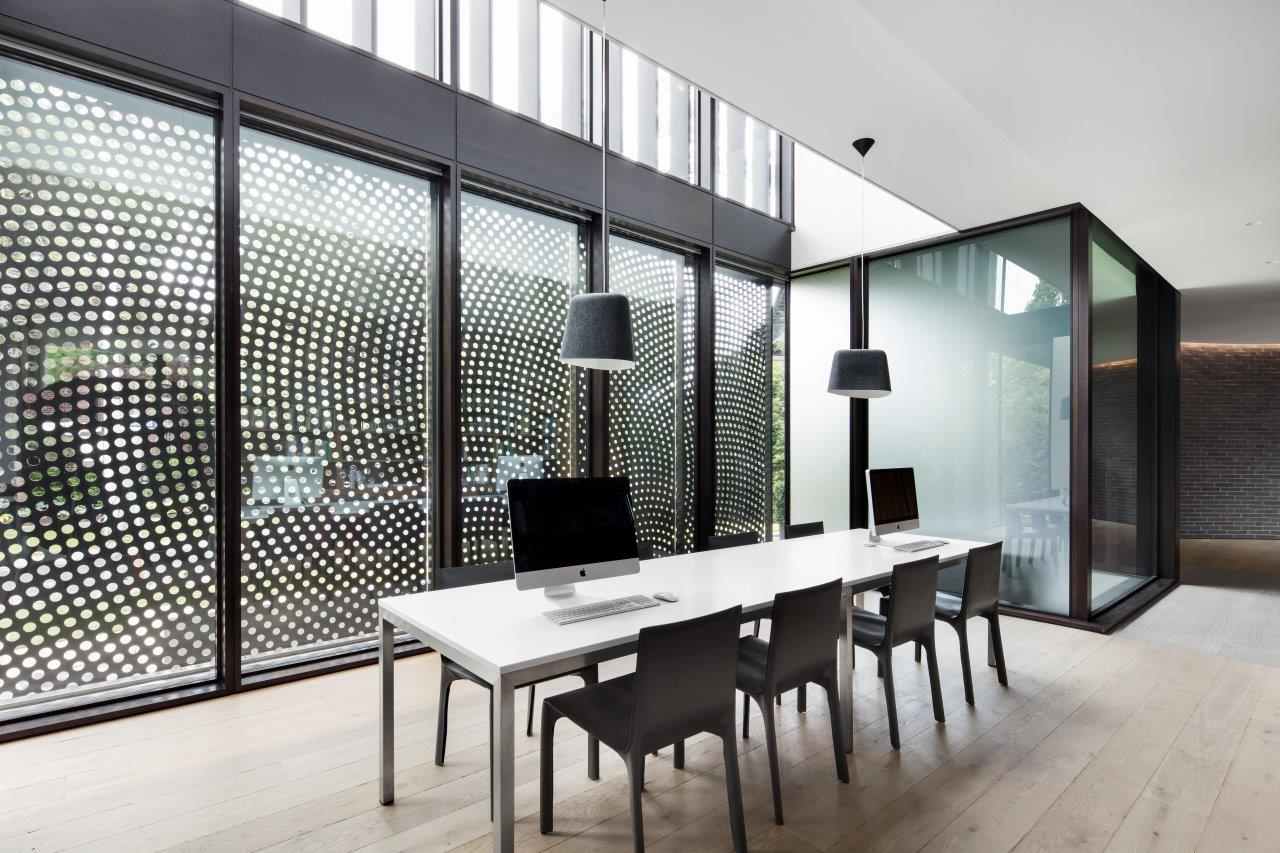 Construction Challenges We Proudly Bested
We needed some new-to-us trade partners to execute this build. This is a large, modern home with a deep, thick foundation. We needed a concrete company that could supply the volume and quality we required. Additionally, the water table on this property was quite high and necessitated top-notch waterproofing. Building on a suspended slab and accommodating the car lift with precision also requires serious expertise. This level of detail also required serious oversight from us, the general contractor, even as our trusted partners worked. The project manager and SevernWoods' owner himself, Tom Cumming, were on site to supervise pouring the foundation, the steel erection, framing, and every other major step to ensure the small details and fundamentals were on track to meet this precise vision.
Steel provides the primary structure for this two-story home. Though you wouldn't know it now, the steel inside this structure is complex and extensive. Many walls conceal steel columns. This modern home has few mechanisms to hide mistakes (e.g., moulding and trim). Many fine details start at the foundation and continue through the steel. Our architectural partners laid out extremely intricate plans, which we followed with the precision of 3 millimetres or less in every instance.
We accomplished such precise accuracy using a manufactured framing product instead of dimensional lumber. Exterior 2x6s are built with LSL (laminated strand lumber) studs. These interior and exterior walls won't move over time. We have to admit, there was a special kind of joy in our hearts as we eyeballed down that perfectly straight line of 2 x 6s and then watched our excellent drywall partner translate this into a perfectly smooth interior wall.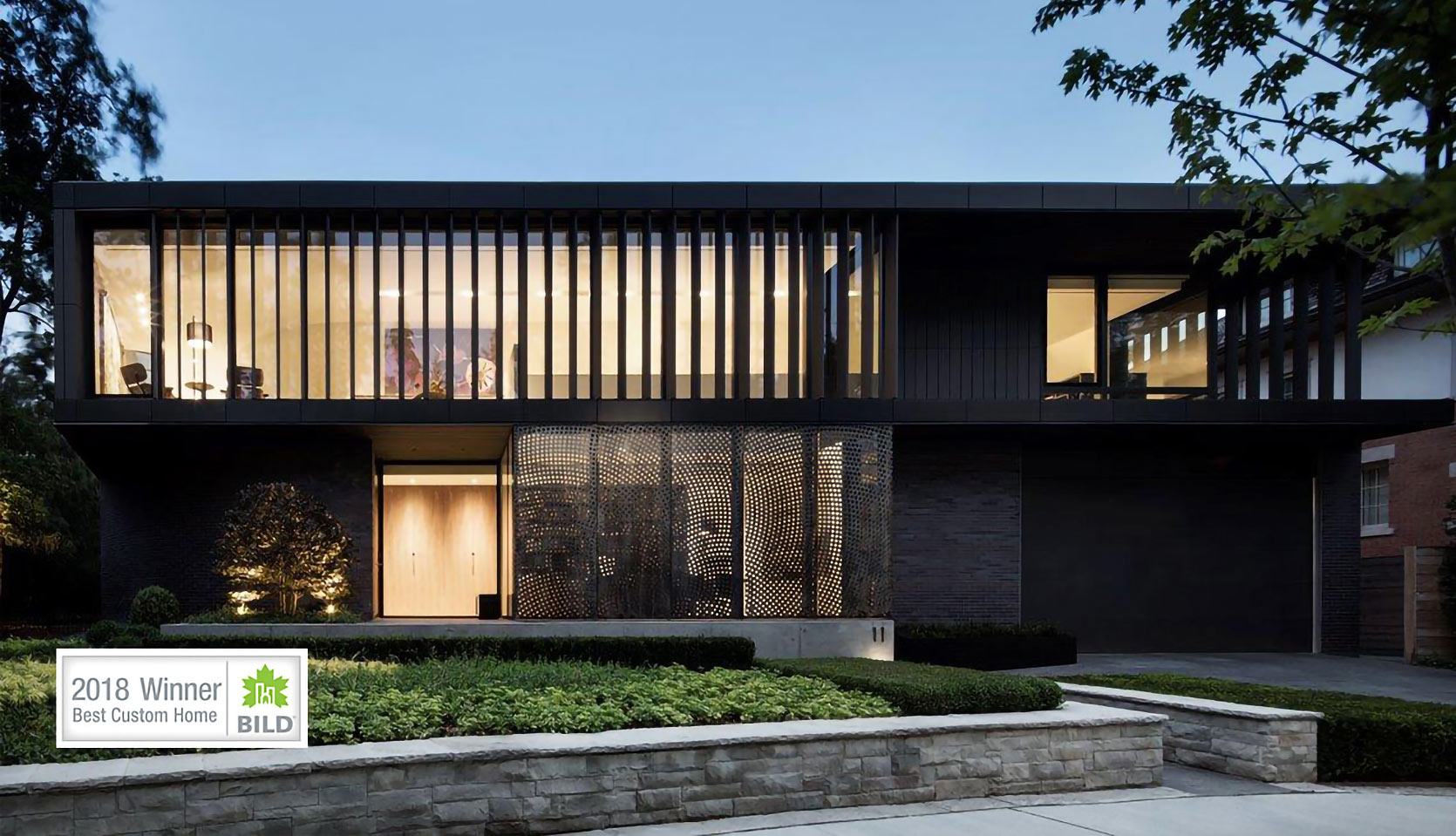 Luxurious Modern Materials
We used only the most durable materials: brick, glass, painted aluminum, and extruded terracotta. The interior uses dark iron spot brick, distressed European Oak, and veneered Walnut. The modern stone-clad fireplace, added for a visual statement, is made of sandblasted Eramosa limestone from the Owen Sound area.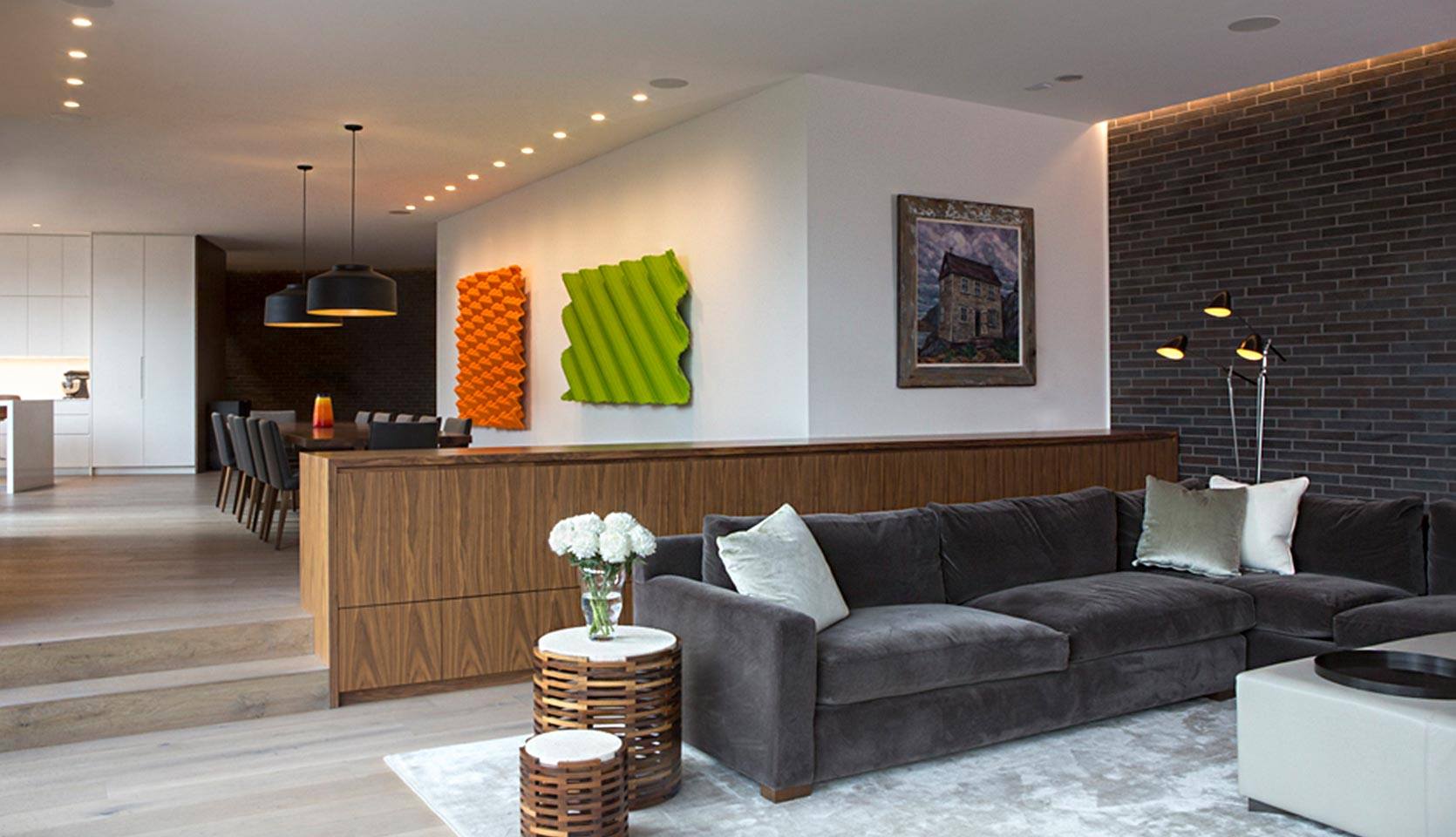 One-of-a-Kind Windows
The windows were locally manufactured by Tradewood, which simplified but did not eliminate the challenge of transporting such enormous double-paned windows. Measuring 11 feet tall, the ceiling intersects each window at 10 feet, giving the impression of endless extension, an infinity pool on its side. Thermal glazed and framed with durable and rich mahogany, we assembled the windows on-site. Because these are such unique windows, we had to order them very early in the process and then ensure we were ready within ⅛ inch of the specifications before this pricey package arrived for installation.
The windows behind the exterior screen also presented a unique challenge. How do you clean around such a dappled pattern? We were instrumental in creating hinges so that the screen could be moved for a deep window cleaning.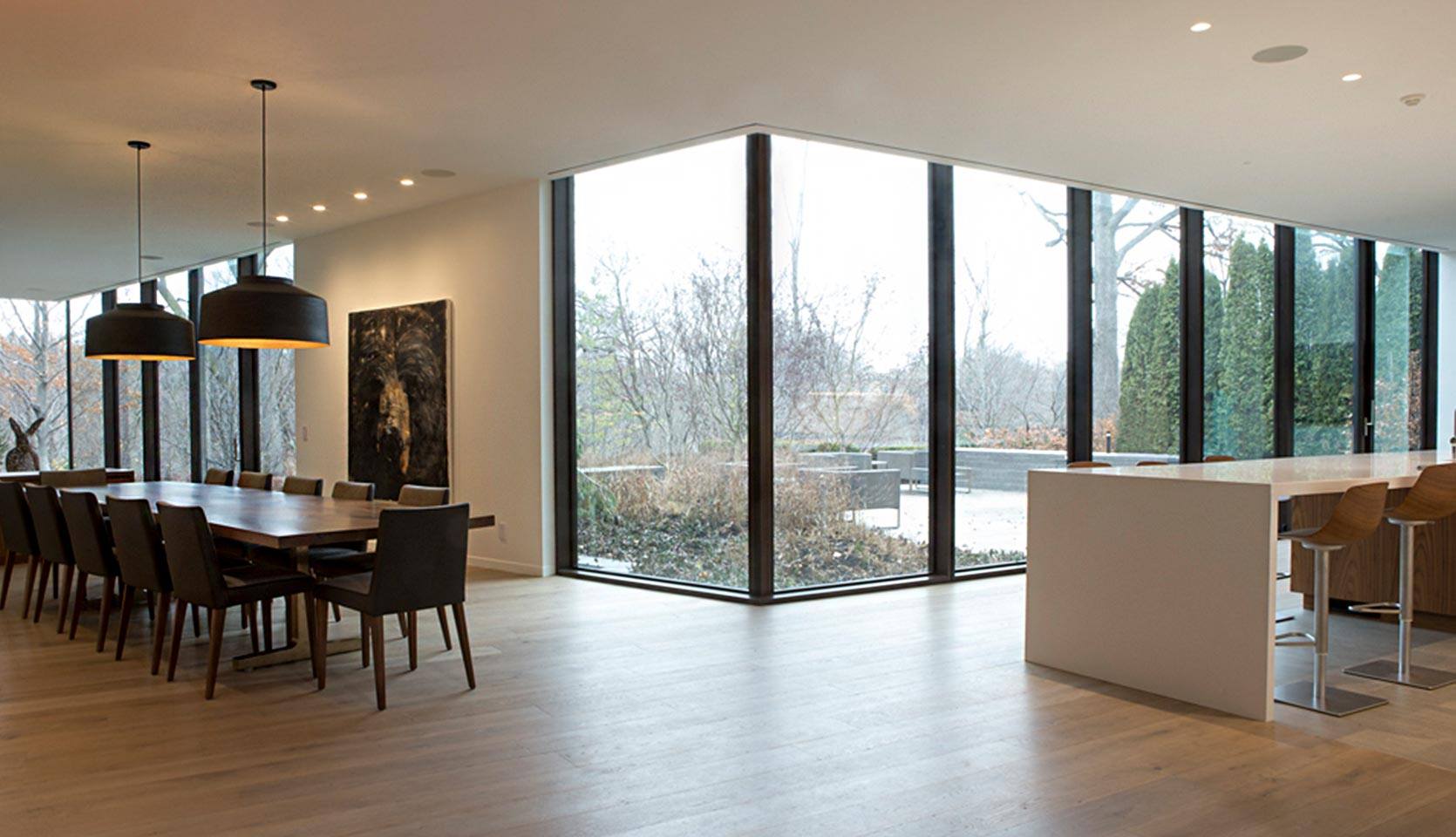 Playful and Functional Details
This curved dark brick wall conceals structurally-vital concrete, four inches of insulation, and a sister curve on the exterior. Such an effect is a true labour of love. We special ordered the bricks for the exterior and interior curved-brick walls, each with a custom radius. This kind of precision is impossible to achieve on-the-fly. We exchanged several rounds of samples with our supplier in The U.S. and ordered the bricks more than 6 months in advance to ensure that we had the right materials on site when we were ready to work with them.
This architecturally magnificent home also has many spaces suited to unique sculptures, wall-hung pieces, and features, including the colourful art hanging on the wall in the family room made of lego. Modern homes can be playful and kid-friendly. Three kids call this place home today. This modern family home provides plenty of comfort and gives way to play. There are so many sun-soaked corners for them to set up expansive scenes and imagine elaborately.
The modern white custom kitchen includes plenty of storage space and smart custom cabinets. The patio beyond now features an outdoor kitchen to support seamless indoor and outdoor preparation and entertaining.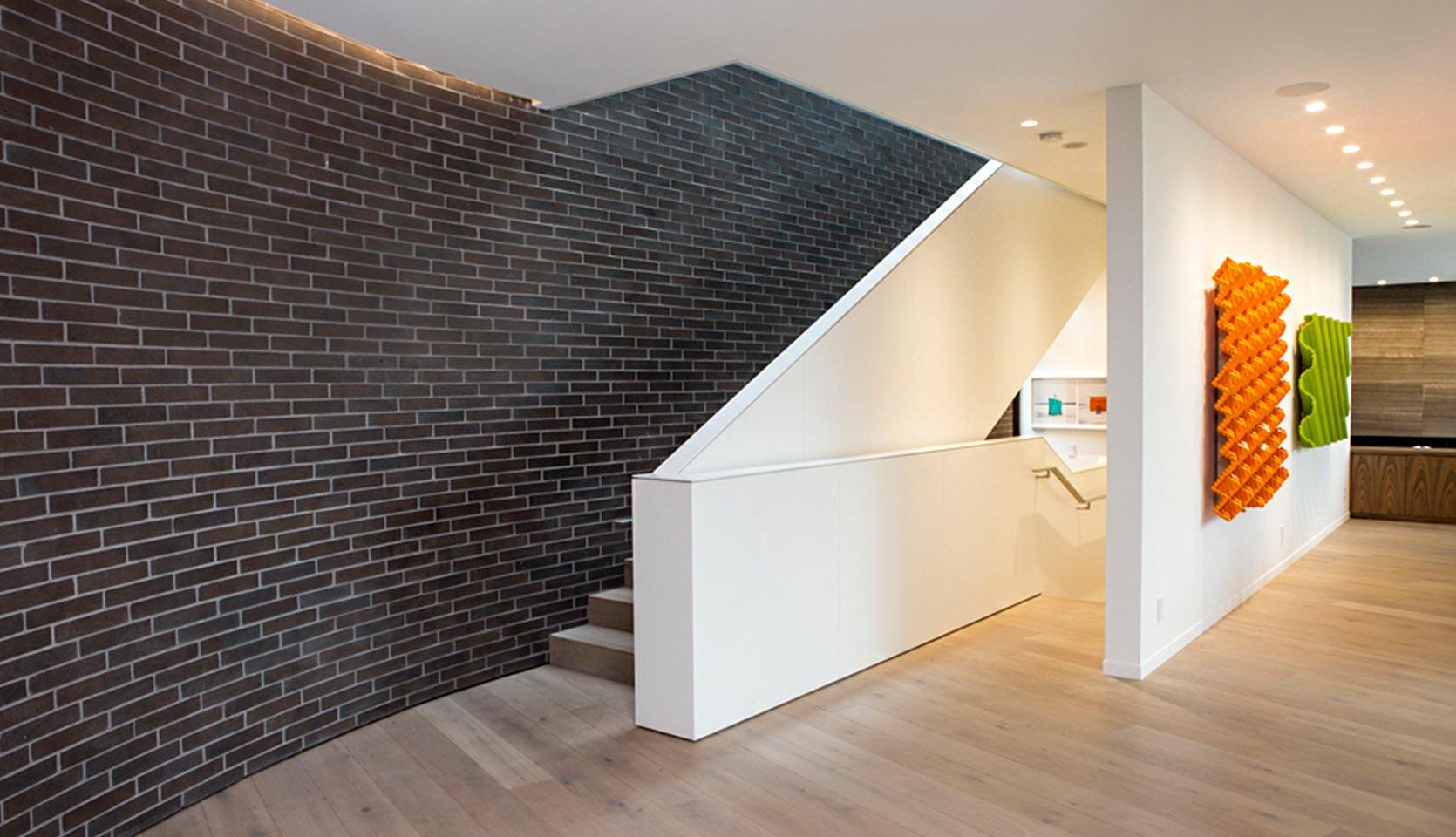 The Car-Guy's Dream Garage
This two-car garage is anything but basic. The homeowner has a handful of collector cars to enjoy on special occasions. We included this car elevator to create easy access for up to 7 cars, as there is room for 5 cars to drive off the elevator into the basement below.
Canadian luxury builders sometimes struggle to find specialty features with local services to back them up. Many of our high-end vendors are in The States. Car lifts for residential garages are no exception. We went out of our way early in the process, long before construction started, to ensure that our client had a robust local support system to service this complex hydraulic lift in the future. Because we had the details of their lift so early, the architect modified the construction plans to reflect the specific lift we planned to include.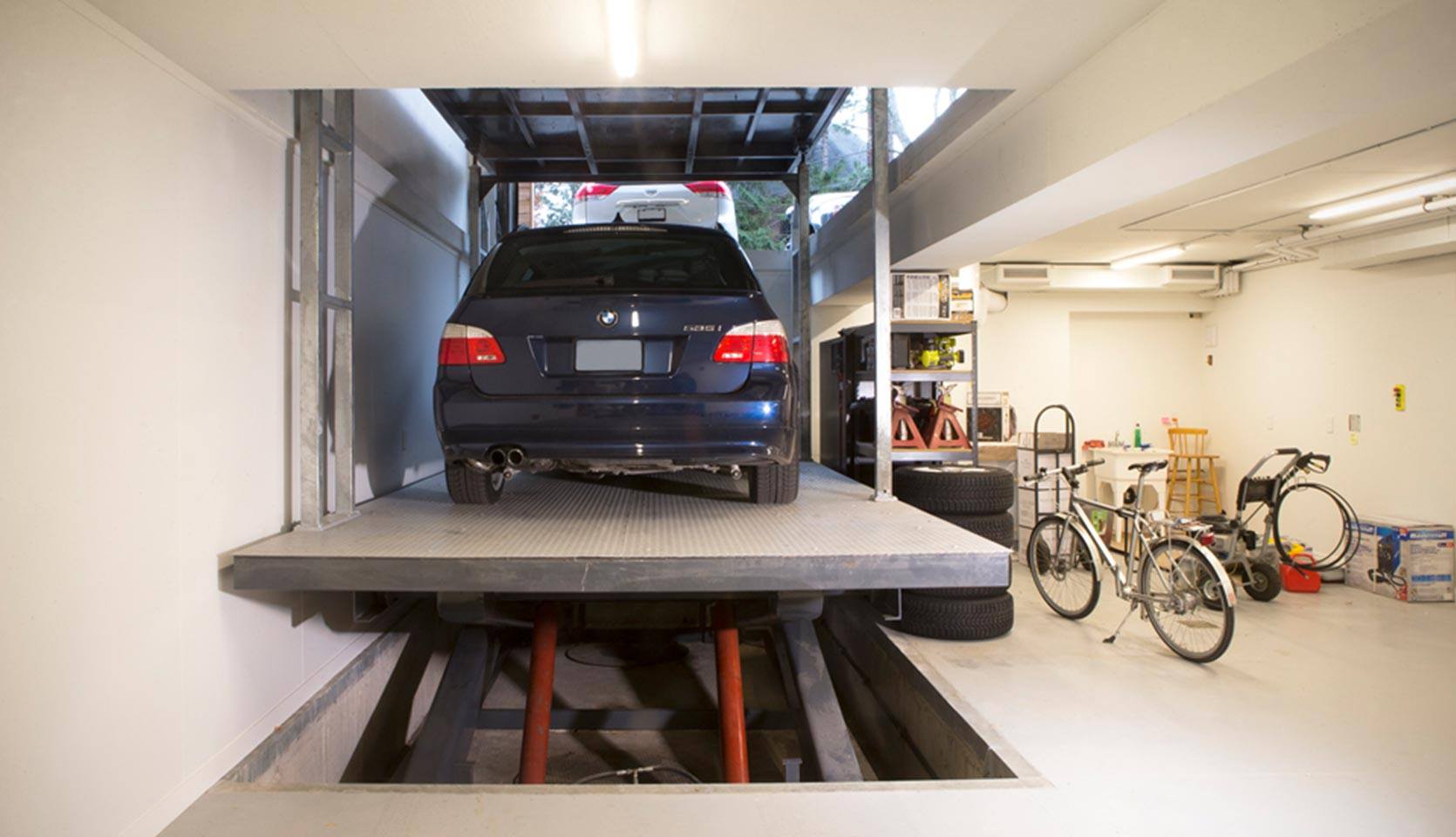 BILD Award-Winner
Our homeowners commented on the comfort and quality of every aspect of their home, which was apparent on move-in day, and now, more than 5 years after construction has concluded, continues to stand the test of time. Our peers agree. This modern stunner in Rosedale won the BILD Award for excellent construction in the Greater Toronto Area in 2018. The cohesive nature of good architecture, marrying interior, exterior, and even outdoor living spaces to sing in one voice is clearly on display here, and SevernWoods is honoured to have been part of the team.
Need a builder for your luxury custom home in Toronto? We can't wait to build something exquisite on your behalf.
Award: BILD WinnerPhotos: Anna Prior Photography, Adrien Williams Photography
Architecture:
KPMB Architects
We've Brought Over 170 Custom Projects to Life