Award-Winning Custom Home in North York
SevernWoods Fine Homes Presents: The North York Green Marvel
In the vibrant tapestry of Toronto's architectural landscape, homes often tell a story — of history, design, and the personal vision of their inhabitants. However, every so often, a dwelling emerges that doesn't just tell a story but sets a precedent. Enter the North York marvel, a manifestation of SevernWoods Fine Homes' craftsmanship, where every brick, panel, and pane sings a symphony of sustainability married with unabashed luxury. Journey with us as we unravel the layers of artistry, engineering, and innovation that birthed this eco-conscious masterpiece near the heart of Toronto.
Award: BILD WinnerPhotos: Anna Prior Photography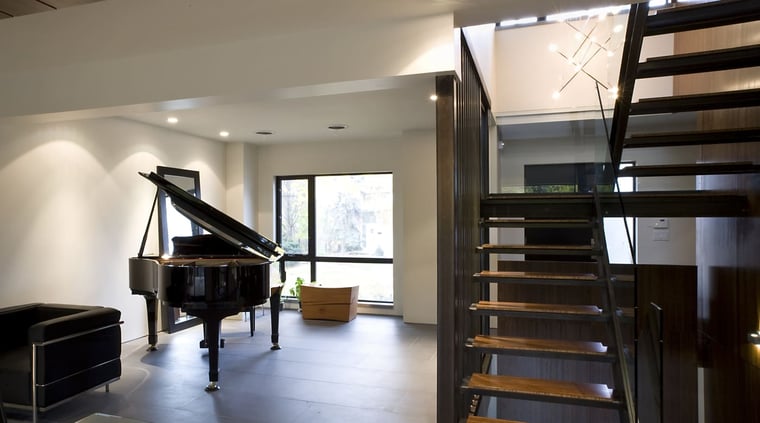 Description:
Whole Home Renovation
Architecture:
Monica Kuhn
The Power of Partnership in Sustainability
When an environmentally-driven engineer couple collaborates with SevernWoods Fine Homes, the result is a living testament to luxury and sustainability harmoniously coexisting in one astounding space. Commitment to sustainability for these homeowners was more than just a fleeting aspiration. These choices, challenging, time-consuming, and often necessitating a higher initial investment, are based on a profound sense of ecological responsibility. But it is this steadfast dedication that can yield remarkable results, ensuring a luxurious living experience that doesn't compromise the planet's well-being.
Solar Innovations: Elevating Energy Efficiency
Nestled atop this North York house, the solar panels are a beacon of modern eco-living. They not only produce electricity, seamlessly blending aesthetics with functionality but also add warmth to the backyard swimming pool. While weaving these solar panels into the architectural design presented its unique challenges, our team's extensive experience with interior renovations ensured flawless integration, striking the right balance between beauty and purpose.
A Symphony of Green Features
Beyond the photovoltaic capabilities, the residence is a beacon for holistic, sustainable living. The rainwater collection system, for instance, provides an elegant and eco-friendly solution for garden irrigation. Additionally, the greywater reclamation system stands as a testament to the home's circular approach to resource use. To top it all off, the efficient in-floor heating system and the careful choice of locally sourced materials underscore this guiding commitment to minimizing the environmental footprint without compromising luxury.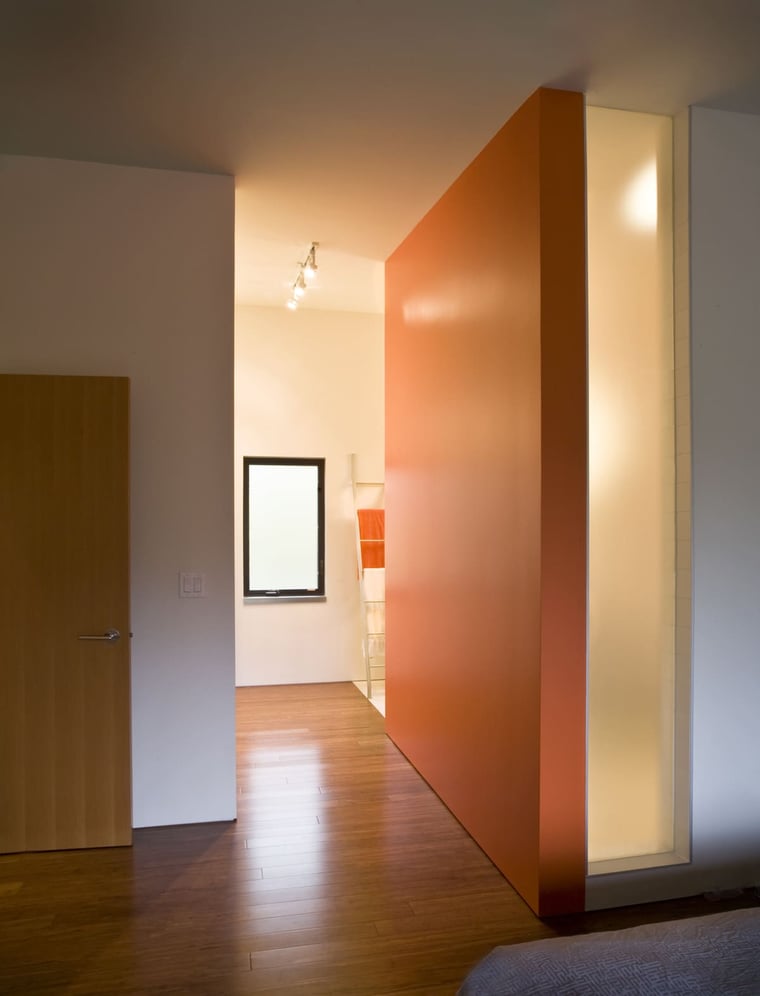 Preserving the Old, Embracing the New
Initially, the goal was to incorporate a touch of the past, preserving a portion of the red brick charm that adorned the home's facade. However, this home was designed to extra-stringent commercial codes; the imperative need to reinforce the foundation steered us toward a transformative approach. The outcome, though essentially an entirely new edifice, gracefully carries the spirit and character of the original home.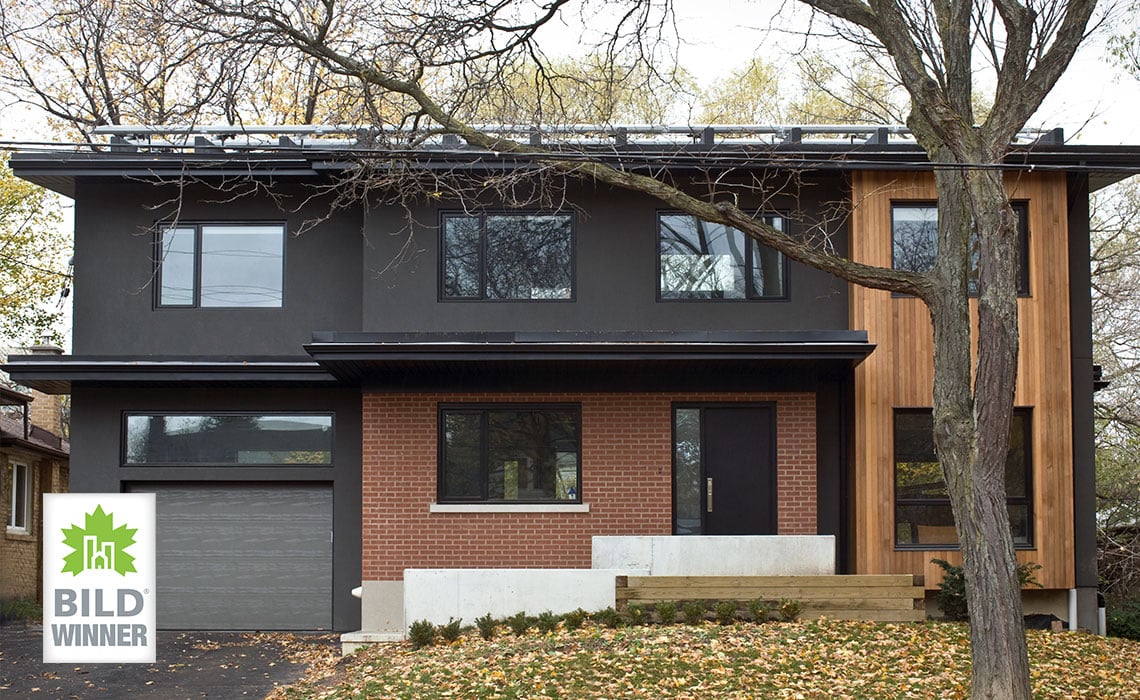 Sustainable Curb Appeal
Crafting an exterior that resonated with the ethos of sustainability without skimping on modern luxury was a thrilling challenge. Through a harmonious blend of raw concrete, clear cedar, and sophisticated dark stucco, this transformed bungalow exterior emerges as an architectural marvel in the heart of North York.
The Warm Embrace of R50 Insulation
Ensuring the residence was snug, irrespective of Toronto's season shifts, was paramount. The rear north-facing facade, enhanced with an EIFS stucco system, is supercharged with 4" of foam insulation. Achieving an insulation value of R50, this protective shield provides nearly triple the typical code requirement, promising unparalleled warmth and energy efficiency.
Windows: Portals of Precision and Efficiency
Each window in this masterpiece isn't just a view to the outside world; they are strategic architectural elements. Meticulously designed, they ensure abundant natural light floods the interiors while championing remarkable energy efficiency. Depending on their sun exposure and orientation, our team employed either triple or double glazing, marrying functionality with finesse.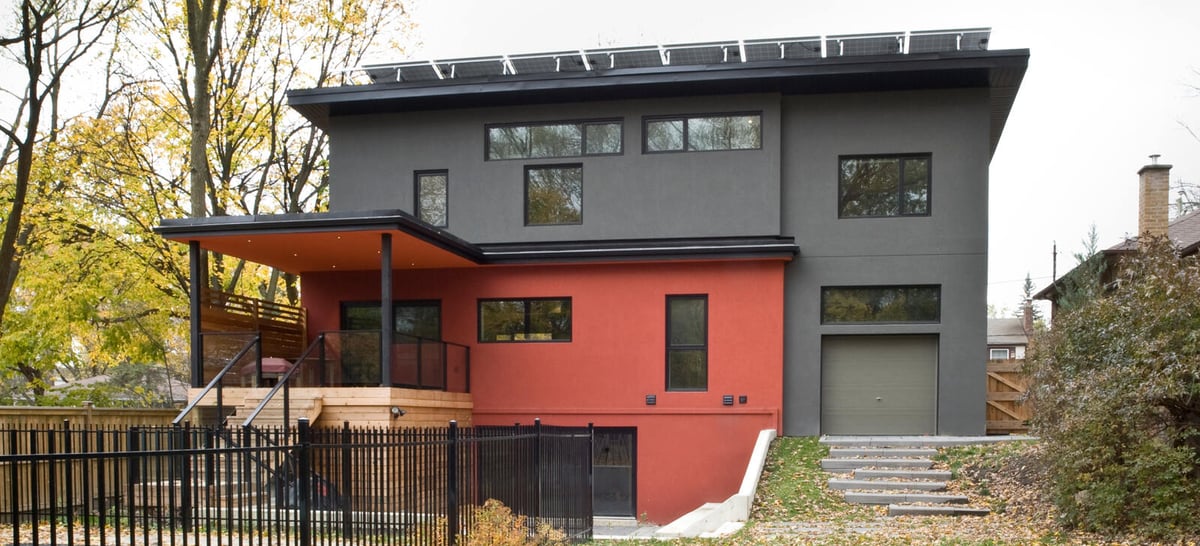 The Kitchen: A Culinary Canvas
This heart of the home marries style with sustainability. Beneath the feet, large-format grey tiles set the stage for a culinary space that exudes sophistication. Plyboo, a renowned structural bamboo product, adorns one section of cabinets and a wood-plank ceiling feature. The three-toned kitchen cabinets create a delightful juxtaposition against pristine white cabinets and a statement-making black island. And to infuse a dash of vibrancy, a lively orange backsplash seamlessly weaves into the design, offering a refreshing contrast.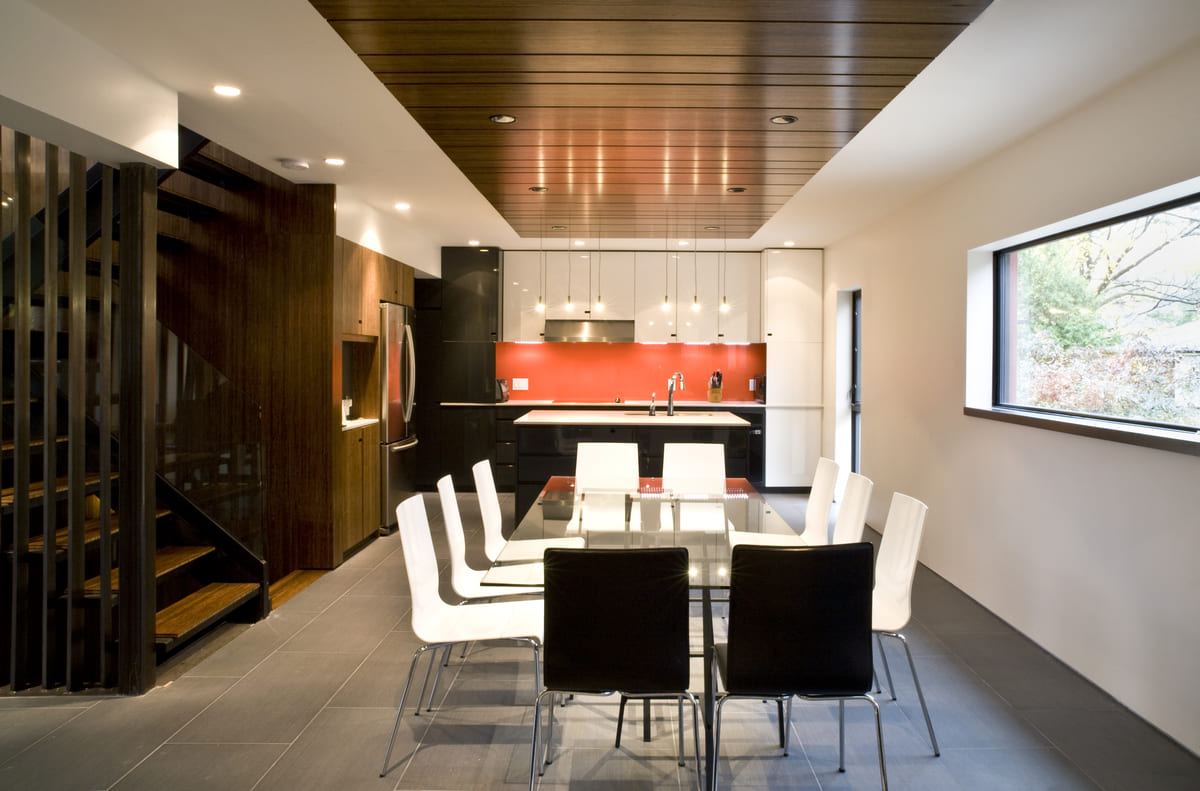 Statement Staircase: Rustic Charm Meets Modern Design
Often a mere utility in average homes, the staircase here is an art piece. Early in the construction phase, we integrated a raw steel design, allowing time and nature to lend it a patina. Once the perfect balance of rust and authentic tones was reached, we applied a layer of protective lacquer, preserving its character for years to come.
Elevated Cedar Deck: A Utility Marvel
More than just an outdoor relaxation space, the cedar deck cleverly conceals a utility room. This strategic design houses the pool's intricate mechanical systems, optimizing space while maintaining the home's sleek aesthetics. Find another cheery pop of orange here, providing flair and continuity.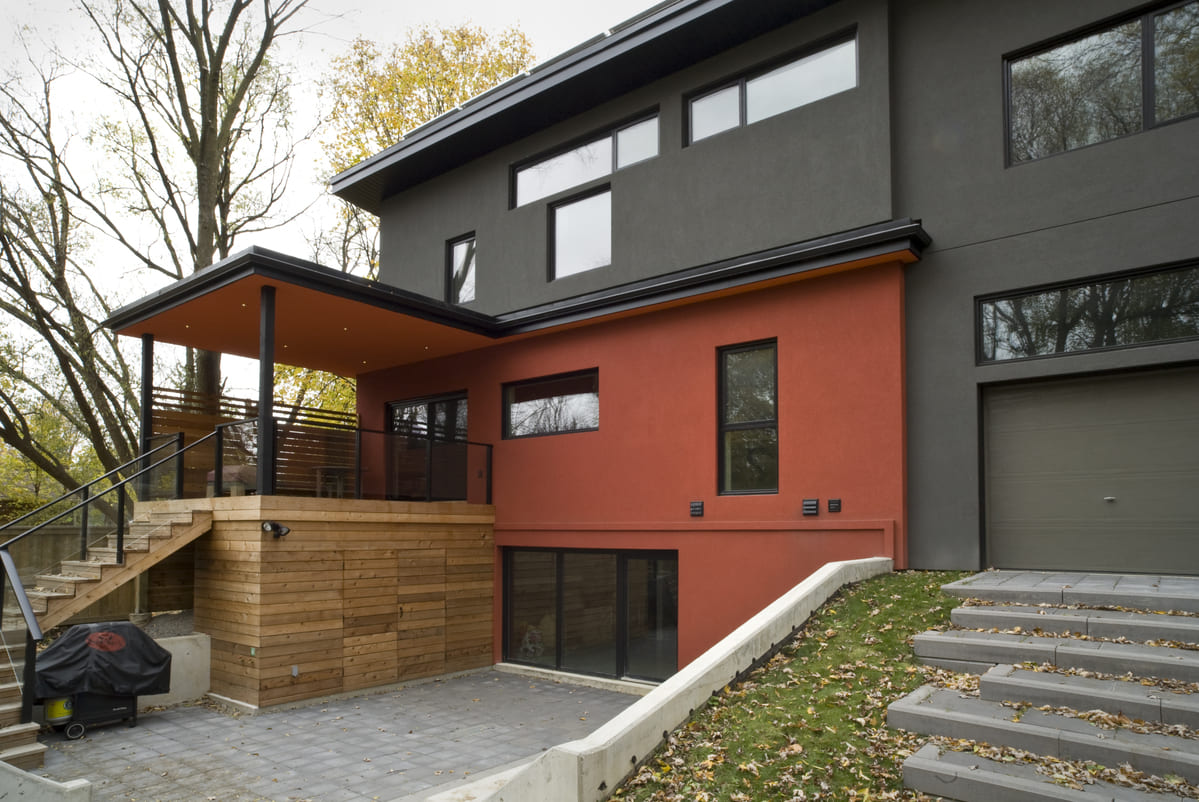 Where Vision Meets Craftsmanship
Every corner of this house, from the brick siding exterior to the bamboo-clad kitchen and dining areas, stands as a testament to SevernWoods' unwavering commitment to luxury, craftsmanship, and sustainability. This North York gem wasn't just another project for us at SevernWoods Fine Homes. It was a collaborative journey that showcased the wonders achievable when vision marries expertise. At the heart of Toronto, a city of dreams and innovation, we don't just build houses; we sculpt sustainable dreams into palpable reality.
If you're looking to reimagine the interior of a cherished old home or set out on a new construction odyssey, our doors are always open. Your home deserves another beautiful century of life. Let's carve out the future of luxury, sustainable living in Toronto together.
We've Brought Over 170 Custom Projects to Life