Century Home Renovation in Playter Estates
In the sea of history and charm of Toronto's Playter Estates, this masterpiece from SevernWoods stands as a testament to the fusion of architectural vision and practical living. Many often advise against purchasing a builder's home, suggesting a transient quality inherent in their design. Yet, this advice dissolves when confronted with a creation that's intended not just for the present but for generations to come. This home, intricately woven into the fabric of our brand, refutes the old adage with every brick and beam. It's not just a dwelling—it's a dream realized, a bold testament to our heart and skill, an emblem of longevity, and a beacon for those passionate about design.
Photos: Anna Prior Photography
Description:
Whole Home Renovation
Architecture:
Lieux Architects
Design:
Sacha Nizami Design

The Dual Purpose of the Home: Family and Business
Journeying through this home reveals more than its residential allure—it's also the pulsating heart of SevernWoods' operations. A unique convergence of family life and professional ambition, the home hosts our vibrant headquarters within its sturdy basement. Visitors to our office are treated to a firsthand experience of architectural finesse and design inspiration. Meanwhile, those joining us via video calls remain blissfully unaware that beneath the tranquil family scenes lies a bustling hub of innovation, passion, and architectural prowess.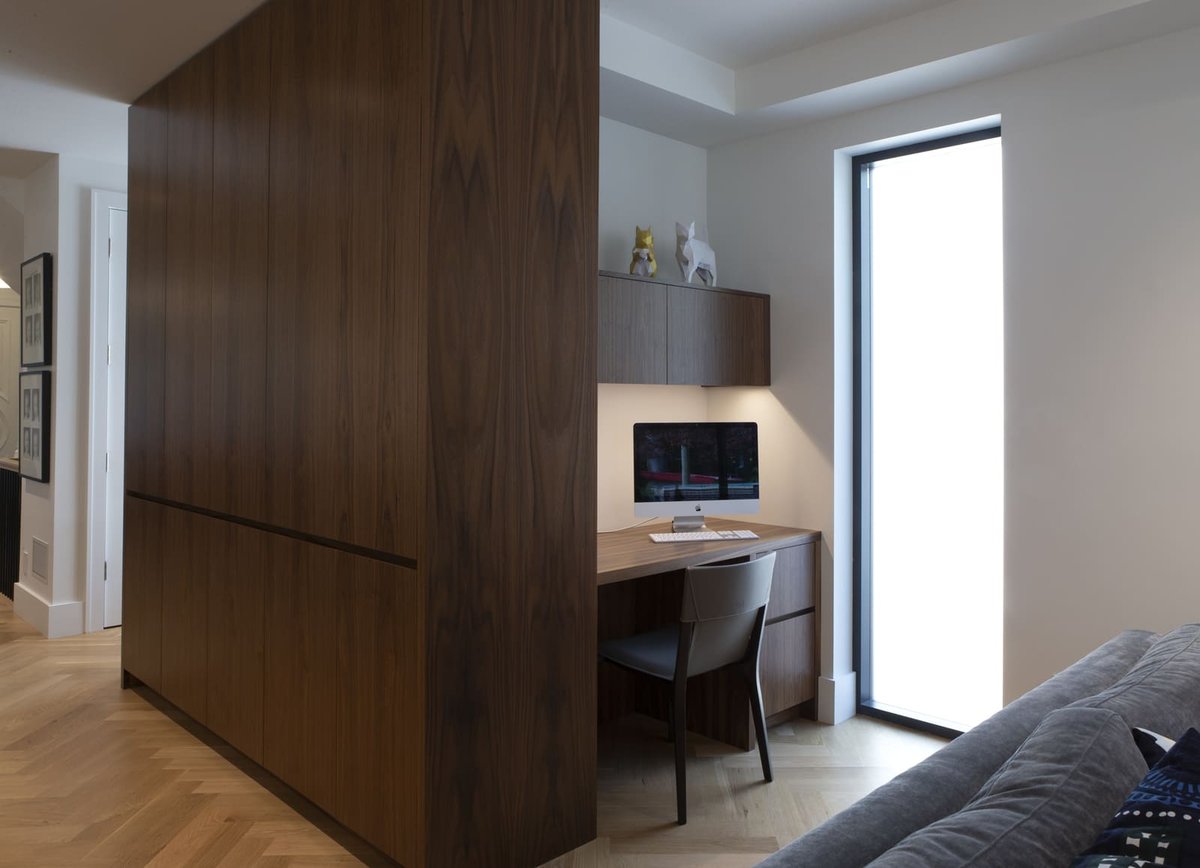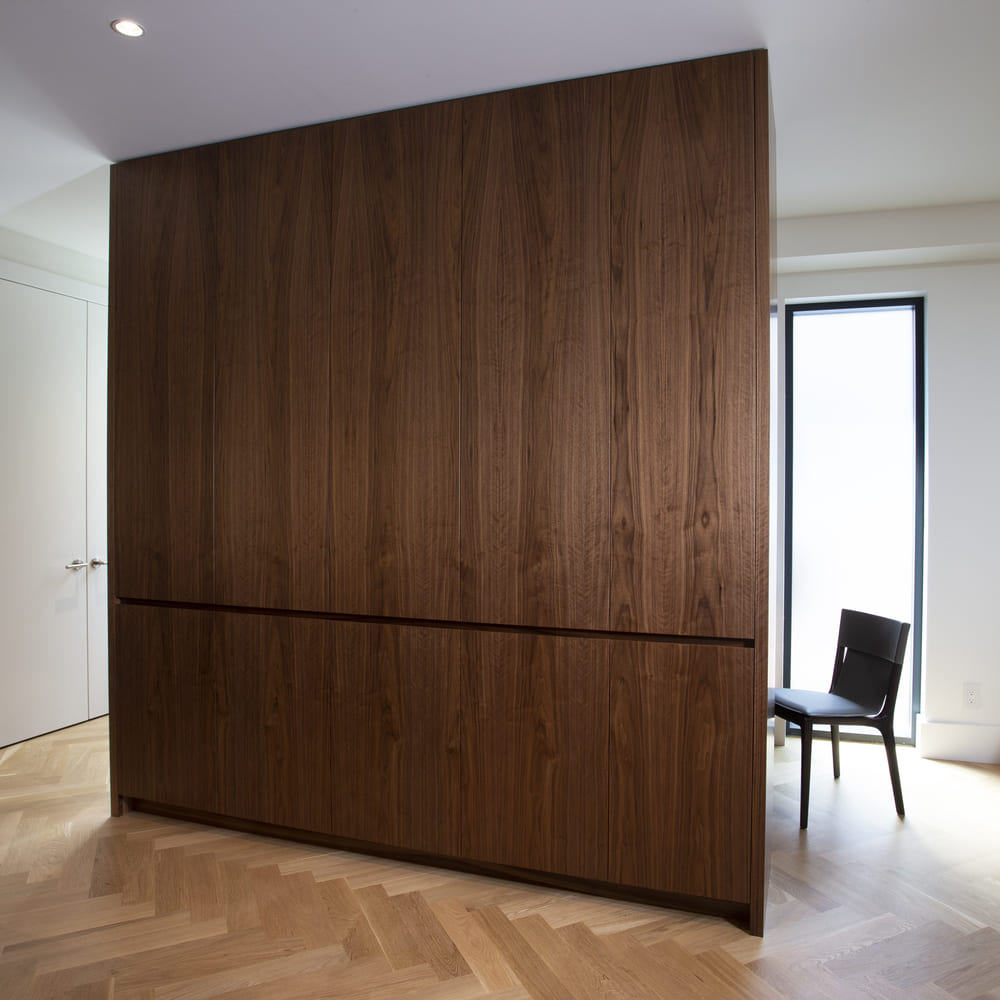 A Visionary Approach to Historic Home Renovation
Undertaking a comprehensive renovation of such a gem requires more than just superficial touch-ups—it demands foresight. We prefer a holistic design approach, especially for homes that necessitate phased renovations. Envisioning the entire layout—from proposed bathrooms to cabinet placements—at the outset lays a strategic roadmap. This blueprint streamlines future renovations and ensures efficiency by preemptively identifying locations for plumbing, outlets, and other essentials. Such meticulous planning minimizes waste and ensures that every stage of renovation synergizes with the next, preserving the essence of the historic home while updating it for modern living.
The Home's Evolution: A Testament to Phased Renovations
The journey of this Playter Estates marvel unfolds in stages, each more ambitious and transformative than the last. Initially, the third floor—once a masterfully curated primary suite—underwent a metamorphosis into a family sanctuary comprising two cozy bedrooms and a bathroom. In this phase, we preserved the original primary suite on the second floor for the primary occupants, retaining its classic allure. Subsequent years saw the basement, our operational epicentre, reinvented. This transformation commenced with underpinning, creating a loftier ambiance, eventually culminating in an office space that impeccably mirrors the SevernWoods brand's ethos. Then came a monumental shift: an eight-month exodus from the family abode. During this hiatus, the first and second floors were radically transferred in tandem with a two-story addition. The outcome? A magnificent office, a bibliophile's dream library, and a primary bedroom that redefines luxury. This piecemeal approach underscores the virtue of phased renovation—each stage building on the last, yet every step echoing the home's storied past and the vision for its future.
Unique Architectural Accents: A Nod to Heritage and Innovation
Inspired by the masterful design of a 200-year-old London door, this particular entrance is an ode to both history and innovation. An emerald, eight-foot-tall wooden marvel, this door boasts a central knob—a feature that adds character from the outset. Adjoining this is the elegant staircase, a refreshing blend of traditional and contemporary aesthetics. The modern twist on the traditional newel post, handrail, and pickets crafted in naturally finished white oak stands in stark contrast to the home's vintage roots. Especially noteworthy are the bespoke newel posts, envisioned by Tom to exacting specifications. The robust 6-inch newel post at the base is faithfully repeated as a 4-inch variant at the staircase's zenith.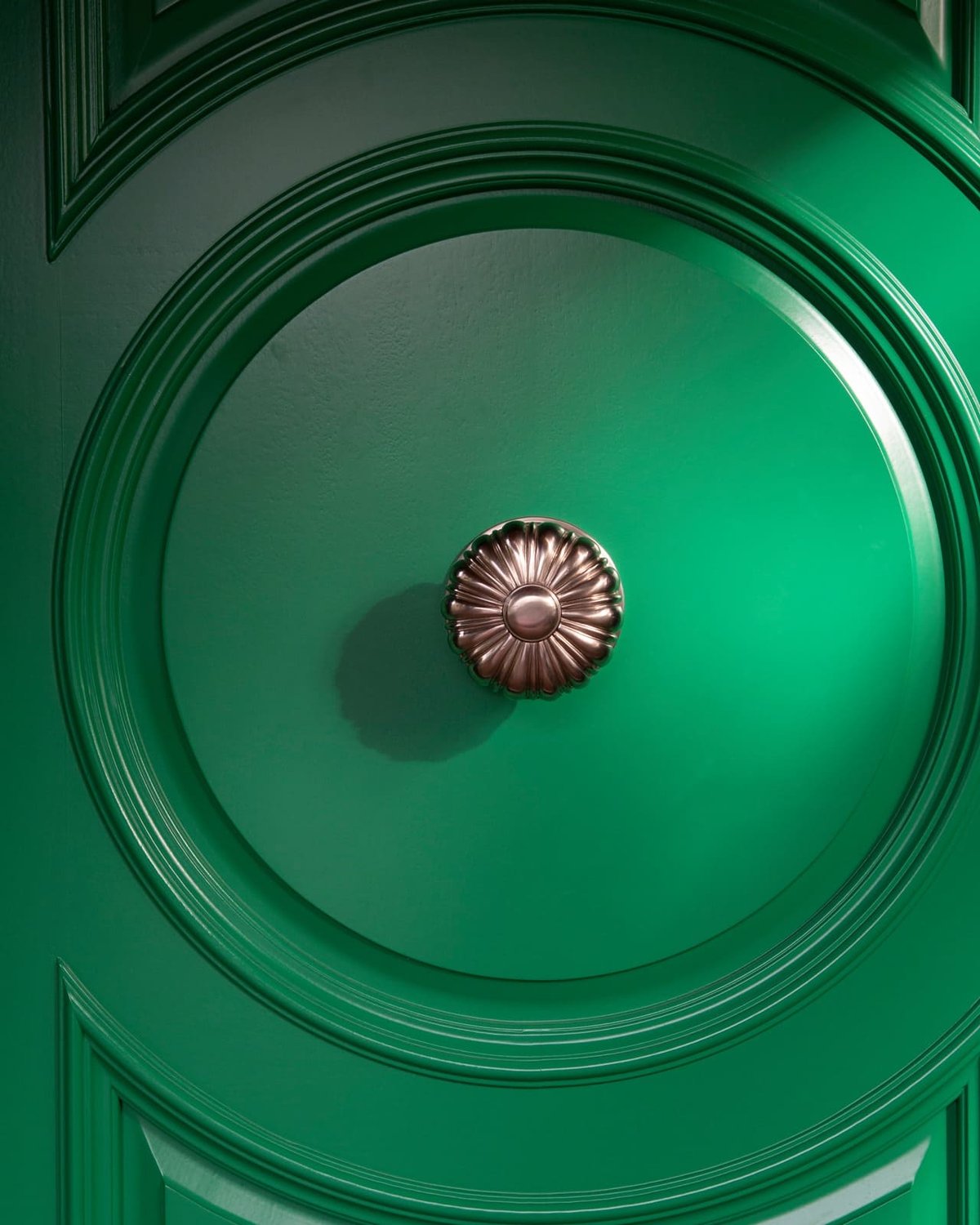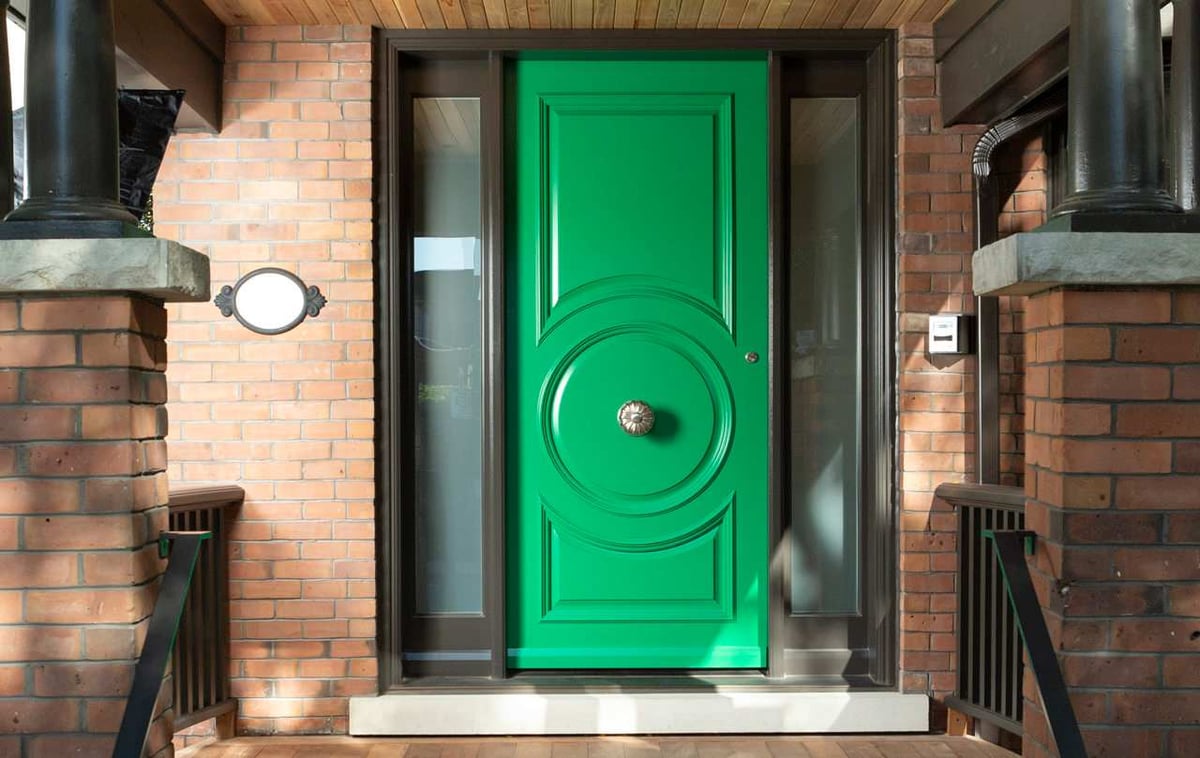 Open-Concept Main Floor: From Restrictive to Expansive
Homes designed in 1913 feature dedicated rooms and character-filled compartments. Yet, modern lifestyles often seek spaces that breathe, merge, and flow. Recognizing this, the main floor of this centenarian Danforth residence underwent a dramatic transformation. Gone were the separate dining and living chambers of yesteryears, replaced by an open-concept layout centred around a colossal 15-foot island. Equipped with a sink, dishwasher, and ample storage, this island seamlessly doubles as an entertainment hub and functional kitchen workspace.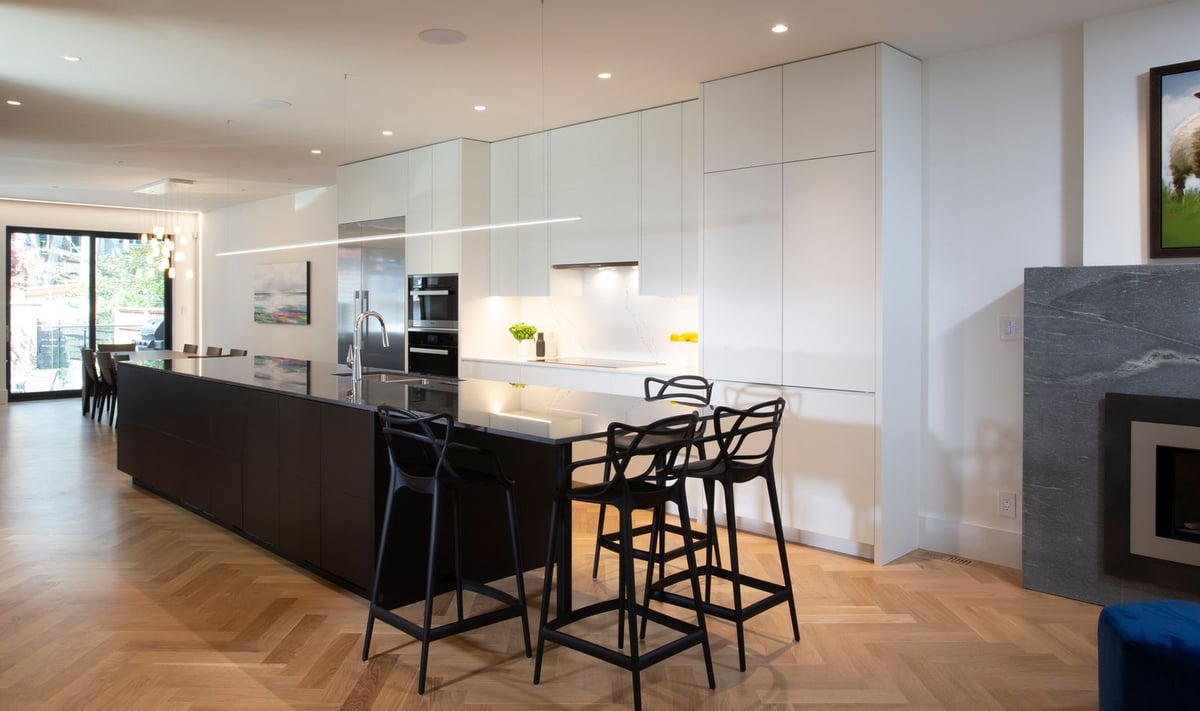 The tri-color kitchen cabinet design, juxtaposing sleek white flat panel cabinets with near-black kitchen island units and accent white oak veneer, captures the essence of modern kitchen design. Absent cabinet knobs, we opted for inset handles and thick cabinet doors to enhance durability while offering a streamlined aesthetic. The adjoining dining space, spacious enough to accommodate a luxurious Italian table seating ten, is cheerfully illuminated by statement pendulum lights.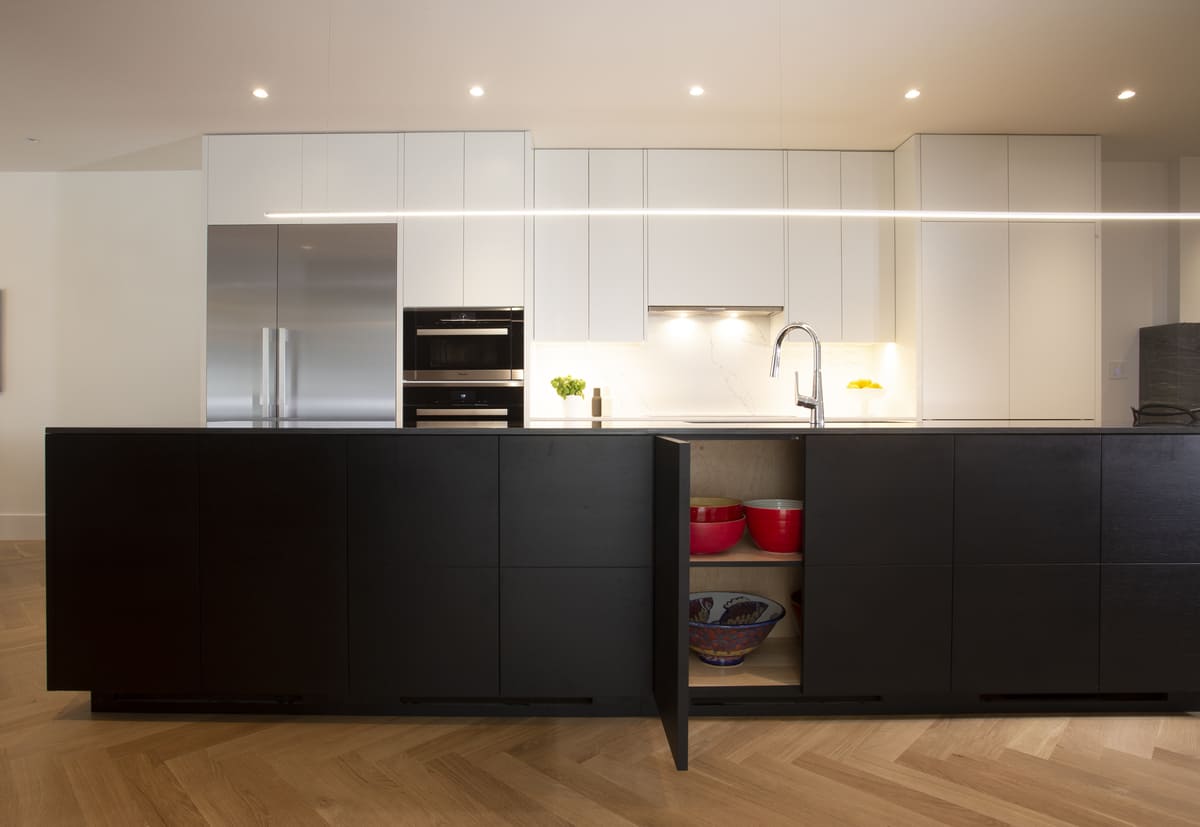 Innovative Kitchen Features: Where Function Meets Aesthetic
We love to show off a standout feature in the appliance garage, a thoughtful inclusion that adds a layer of convenience to daily routines. Unlike typical kitchen cabinets, this garage is designed for daily-use appliances that effortlessly slide out on a stainless steel shelf. The real genius lies in its functionality; even as the appliances remain plugged in, shutting the doors cleverly cuts off the power receptacles—adhering to the codes for outlets situated behind doors.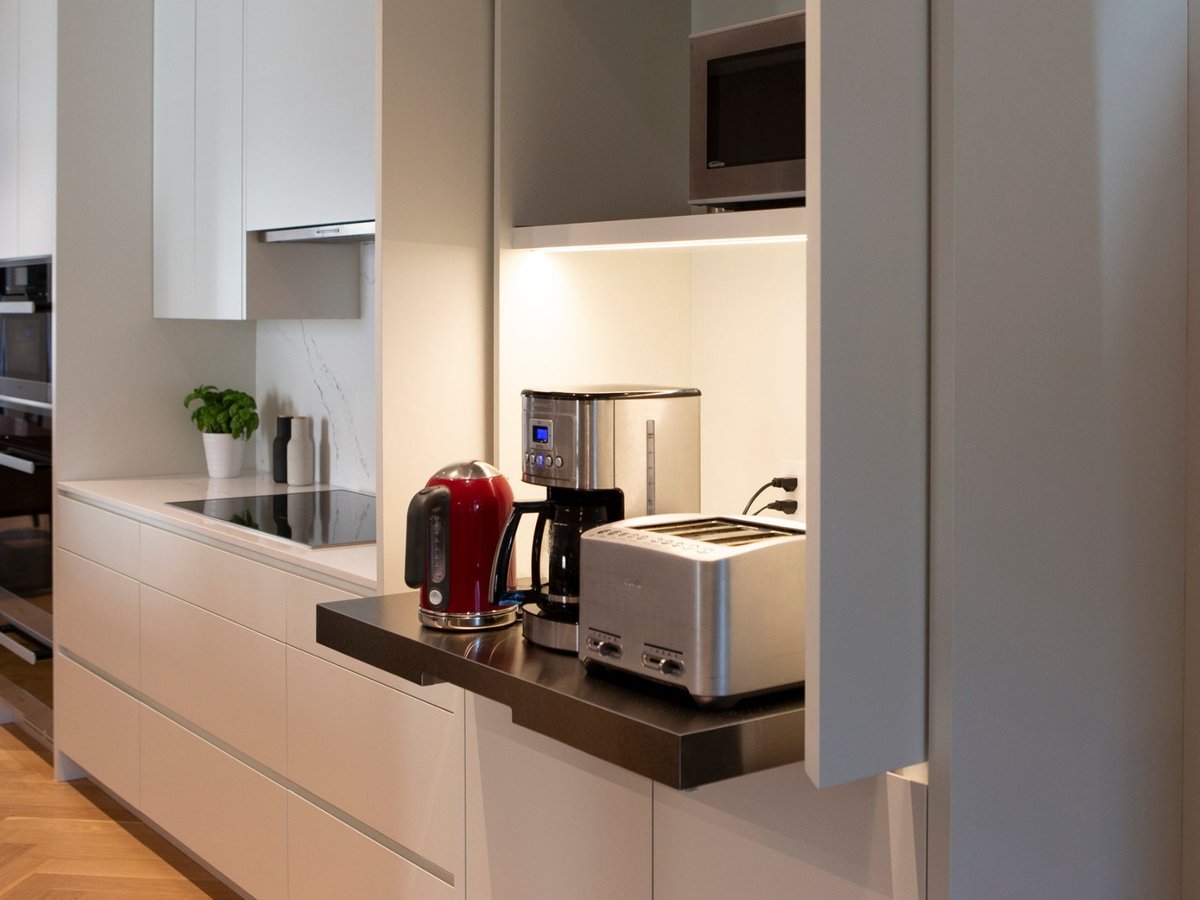 Bathroom Elegance: Privacy and Style Perfected
The quest for the perfect bathroom—a space that's both intimately private yet open to nature's serenity—is often challenging, especially in a bustling cityscape. This Playter Estates home presents an ingenious solution. By incorporating 3M privacy film on select window sections, the design offers occupants a panoramic view of Toronto's verdant canopy and azure skies, all while ensuring their privacy remains uncompromised.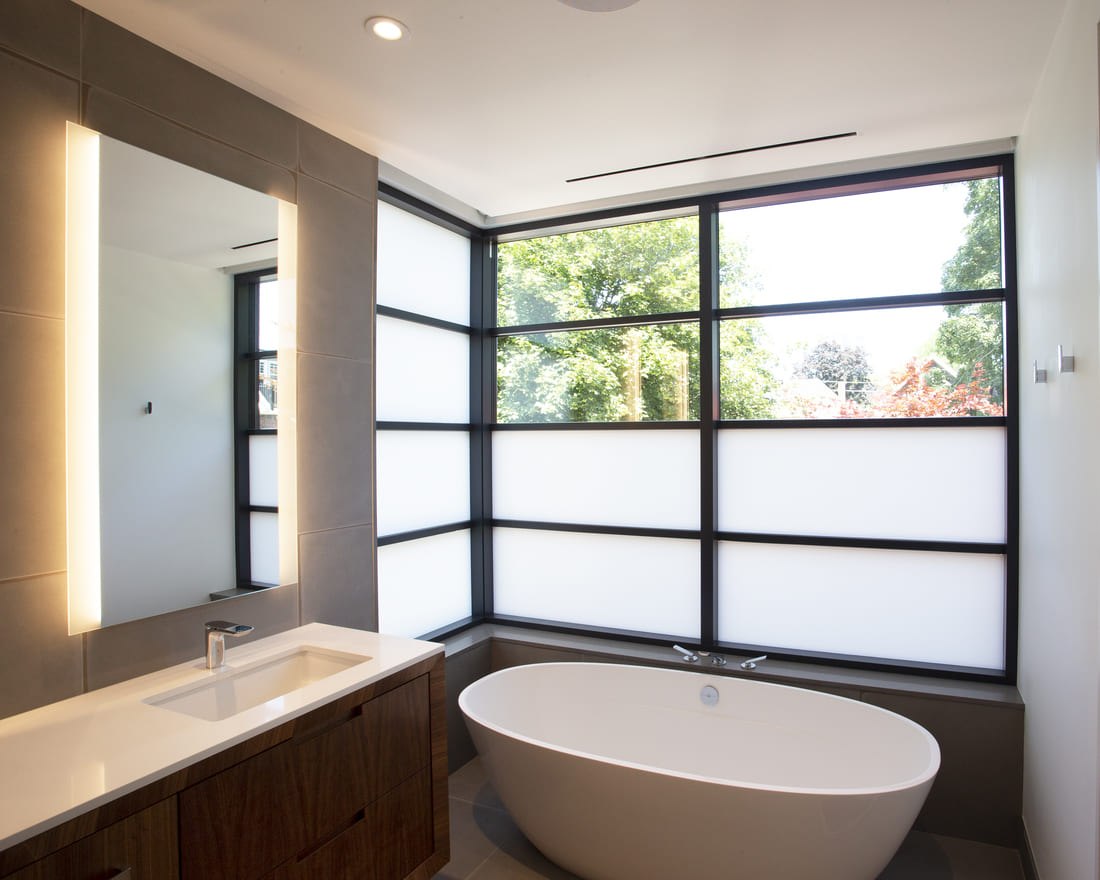 The additional layer of roller blinds caters to after-dark needs, promising complete seclusion. Central to the bathroom's aesthetic is the six-foot-long double vanity. Though anchored firmly to the wall, its design exudes the elegance of a standalone furniture piece, complete with legs that add a touch of sophistication. The central storage is a testament to thoughtful design, specially crafted to house even heated styling tools, thus preserving the bathroom's minimalist aesthetic.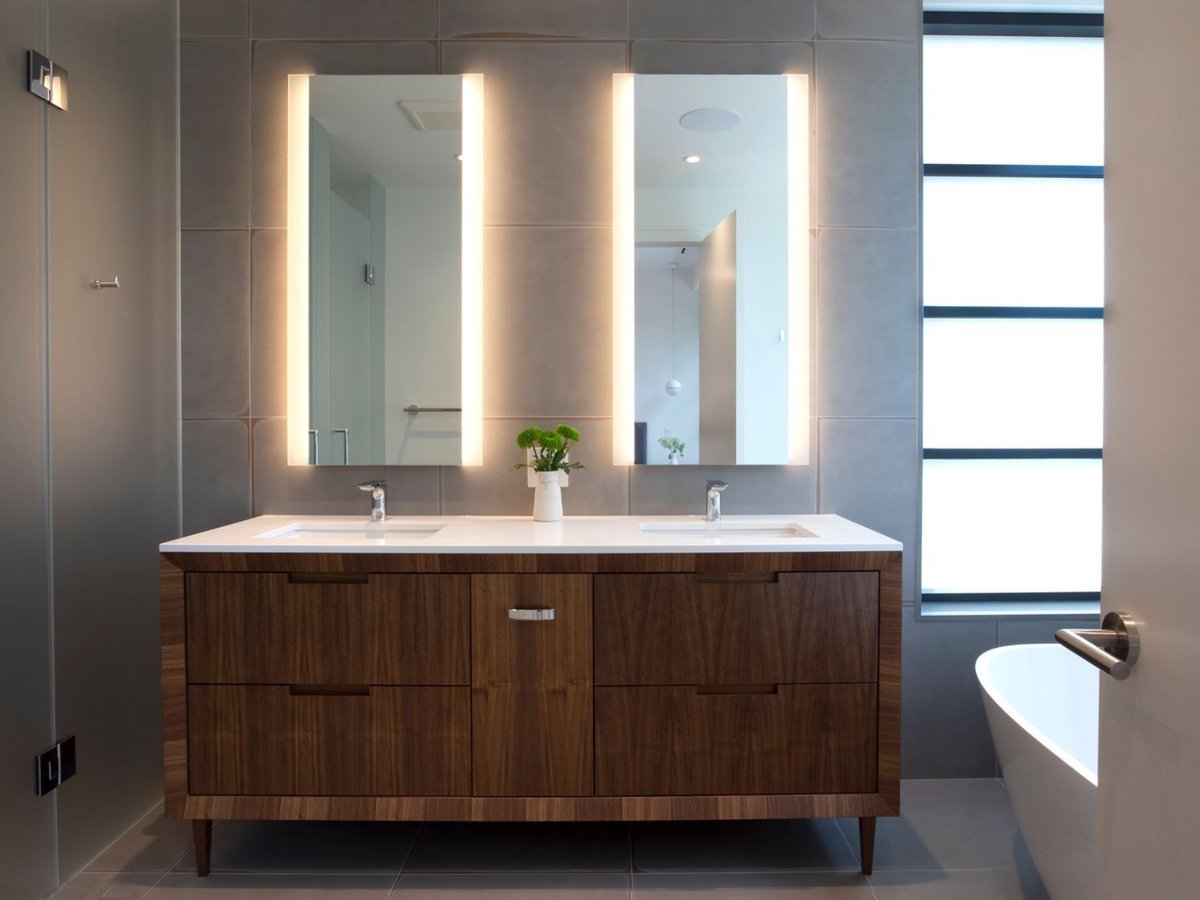 Flooring Finery: The Craftsmanship in Detail
The floors of a home can often be a canvas, speaking volumes about its character and the tastes of its inhabitants. Here, we find a celebration of sophistication and durability, a meditation on a pristine theme. White oak, a choice material revered for its robustness and aesthetic appeal, has been diversely deployed across each floor. On the first, there's the classic herringbone pattern—an intricate weave of wood that adds a touch of traditional elegance. Ascend to the second, and a more contemporary, smaller chevron pattern awaits. By the time you reach the third floor, the expansive plank-style white oak flooring feels generous and warm, a nod to the familial haven it shelters.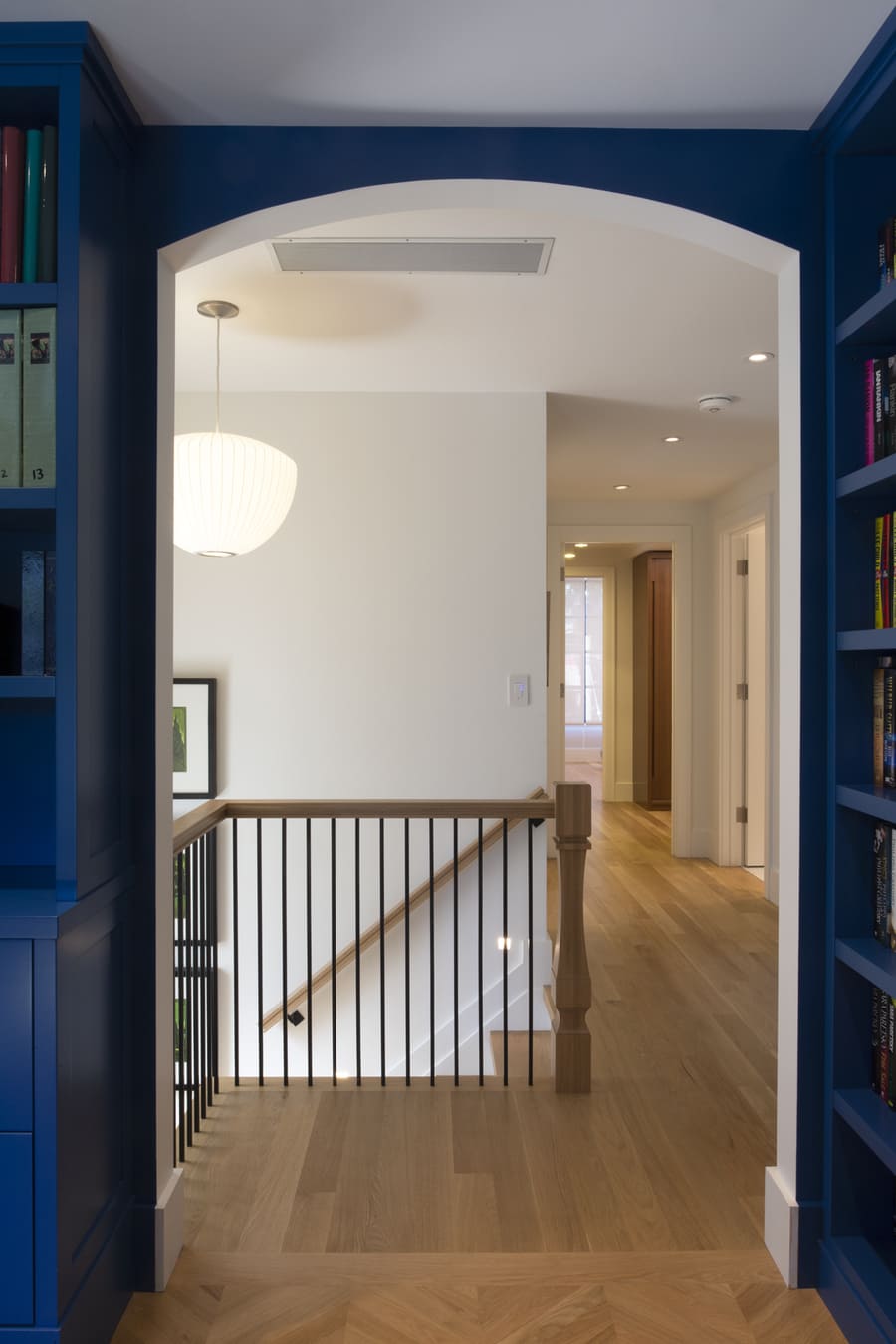 Whimsical Workspaces: The "Butternut Blue" Haven
Crafted for both function and inspiration, the library—or as it's affectionately dubbed, the "blue room"—is a bold and whimsical foray into colour. Its stunning wood panelling is finished in a spray-lacquer shade that required precise colour matching. The challenge? Ensuring an exact replica of a curated Benjamin Moore hue. After partnering with Benjamin Moore and undergoing several iterations, the team perfected the "butternut blue"—a shade now archived for any touch-ups in the future. Serving as both a dedicated study and a cozy escape, this space was an invaluable haven during the COVID-induced virtual shift.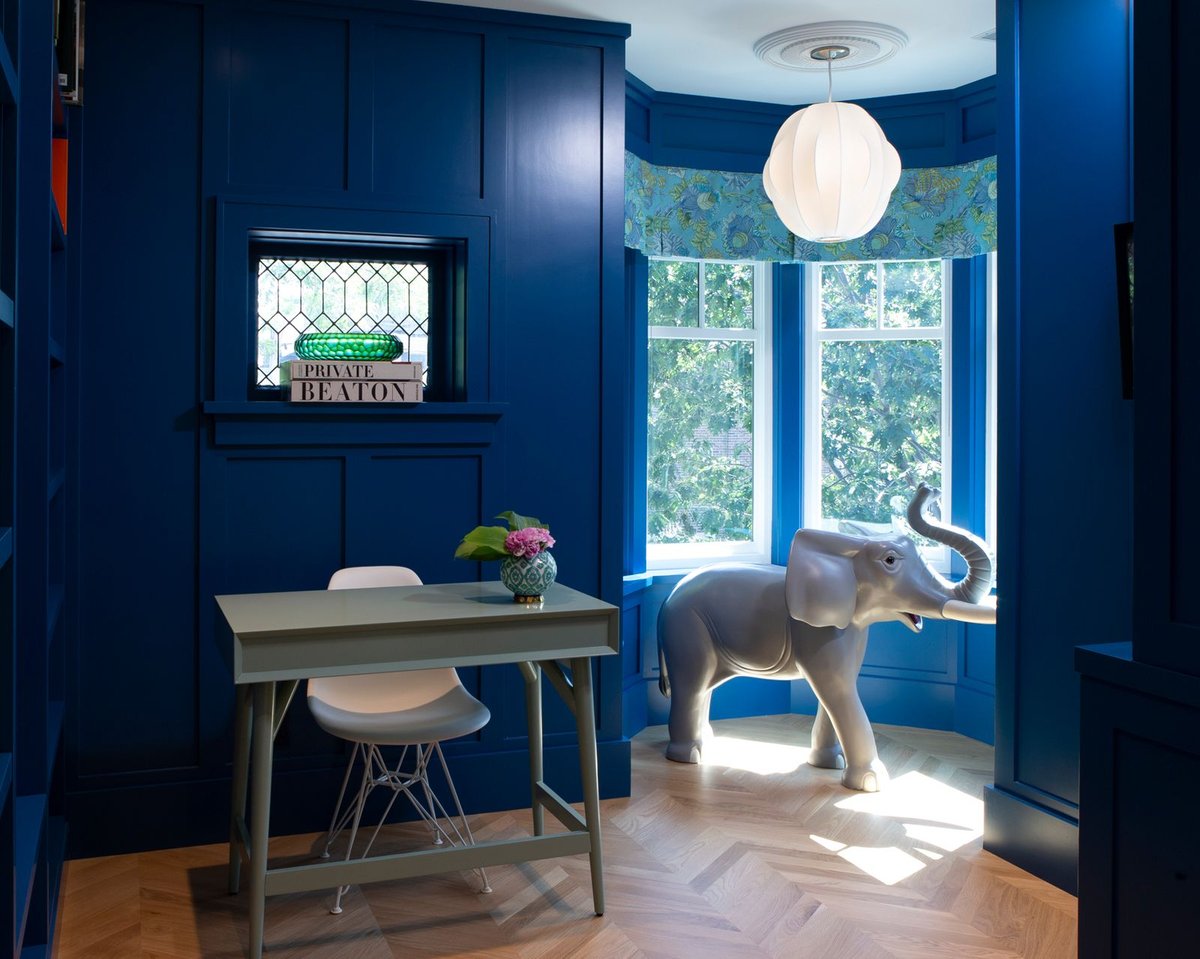 Every inch of this Playter Estates masterpiece stands as a testament to the commitment, passion, and craftsmanship that SevernWoods brings to each project. From anticipating future needs with spaces like the "blue" room to infusing timeless elegance with white oak narratives, our team ensures every home tells its unique story. Experience this artistry firsthand and let us transform your residence into a landmark. Reach out to SevernWoods today and embark on your own journey of bespoke architectural excellence.