Colourful Contemporary Renovation
Welcome to one of SevernWoods' most playful and eye-catching projects. This Playter Estates area Toronto home renovation is a love letter to colour and a bold assertion of personal style executed with impeccable taste. For these clients, colour is a way of life, and injecting it into their home renovation was more than a requirement; it was a mantra.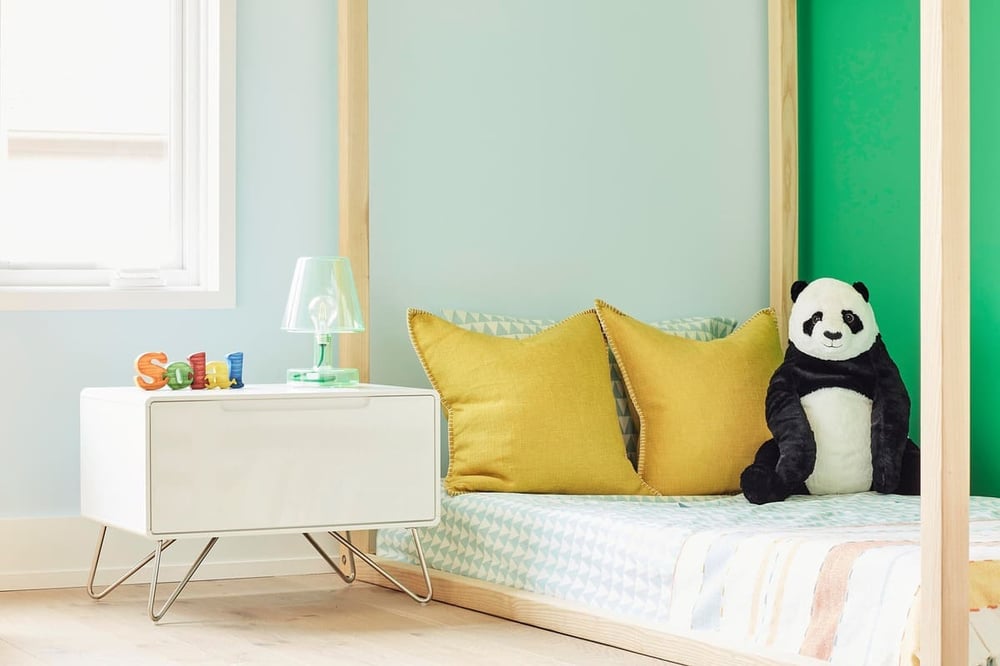 A Quick Pivot and a Second Story
We budgeted and scheduled this whole home renovation accurately and pivoted quickly when the plan changed. What was once conceived as a main-floor addition became a two-story rear addition early during construction. Our clients had originally designed a third-story addition but scaled back to a half-gut, basement renovation, and main floor addition for budgetary reasons. After the results began to roll in, our client realized this was too enticing an opportunity to pass up. Only once would they already have alternate lodging and access to a team of experts who understood their vision so well. They opted to build the second story after all.
Luckily, the two-story plan already had city approval, saving this project from months of delay while it was already underway. Our expert planning allowed us to quickly pivot to a new plan that added new plumbing, HVAC, and electrical elements where they would be required above. Expanded children's bedrooms and a kids' bathroom now sit atop a new kitchen and dining area. Creating generous bedrooms and a bathroom for the kids to share opened up new opportunities for peace and harmonious routines for as long as this growing family calls this Playter Estates stunner home.

A Modern Addition for an Old Home
Part of the challenge of renovating a 115-year-old home in downtown Toronto is continuity and aesthetics. Transitional architecture marries classic features with thoroughly modern design for the addition in the back of the home and renovation below. The modern and appealing rear addition features black pre-stained cedar cladding. We stained the lighter-coloured cedar on site to achieve a complementary and contrasting warm orangey glow in the vertical columns between the windows below and the siding beside the windows above. These large floor-to-ceiling back windows gather natural light that illuminates both the main story and the basement below through the adjacent open staircase. Easy patio access from the kitchen seamlessly blends indoor and outdoor entertaining on this attractive raw unfinished cedar deck. Though this natural wood has a shorter lifespan than manufactured alternatives, the lovely silver grey that emerges as the seasons pass cannot be replicated by a machine.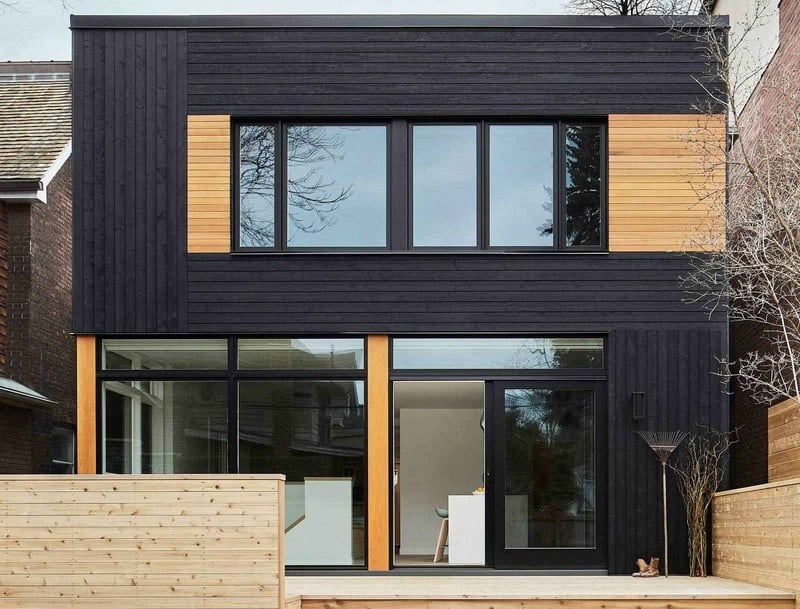 A Kitchen that Glows
This colourful contemporary kitchen features natural wood elements on the kitchen island and hand-painted cement board tile on the vertical space. Several of these tiles secretly swing out to allow access to the heavy copper island sink. The kitchen island is crowned with ample statement pendulum LED lights, which provide plenty of light when the sun goes down, and the floor-to-ceiling north-facing windows can offer no more assistance. A luxurious fridge and freezer are tucked behind the blue flat panel cabinet doors for a seamless and smooth aesthetic.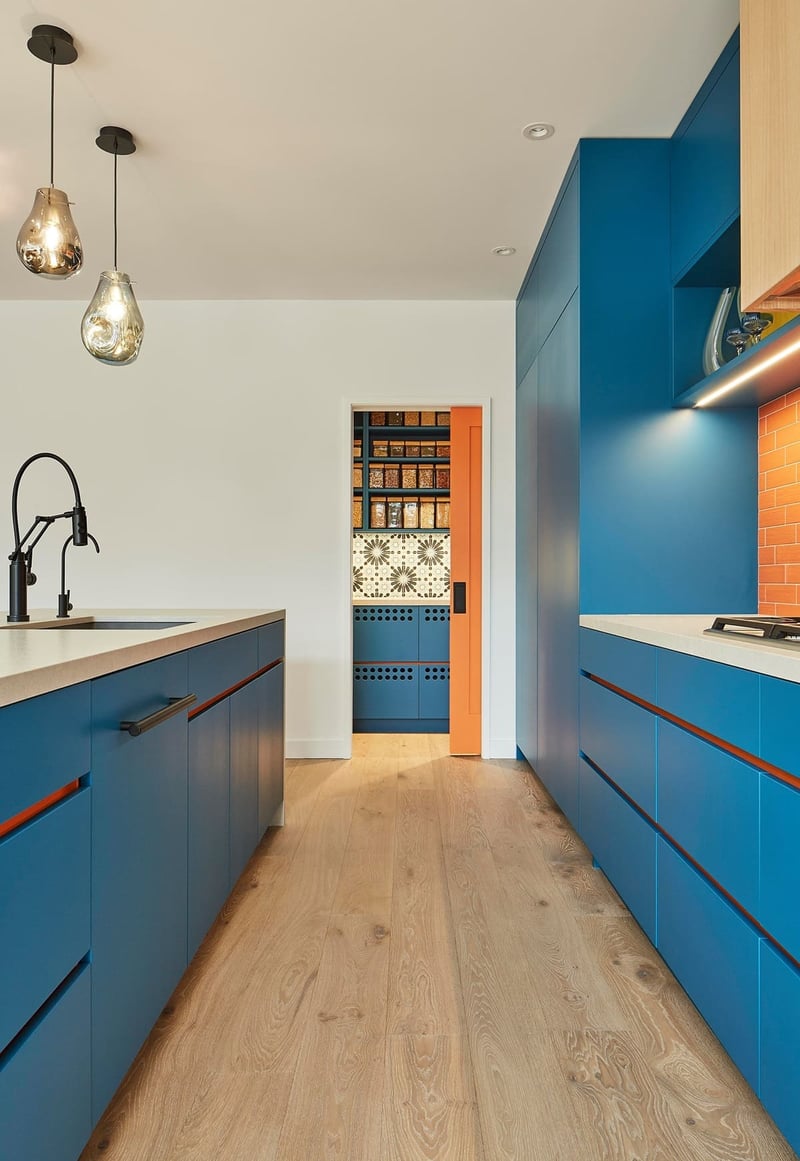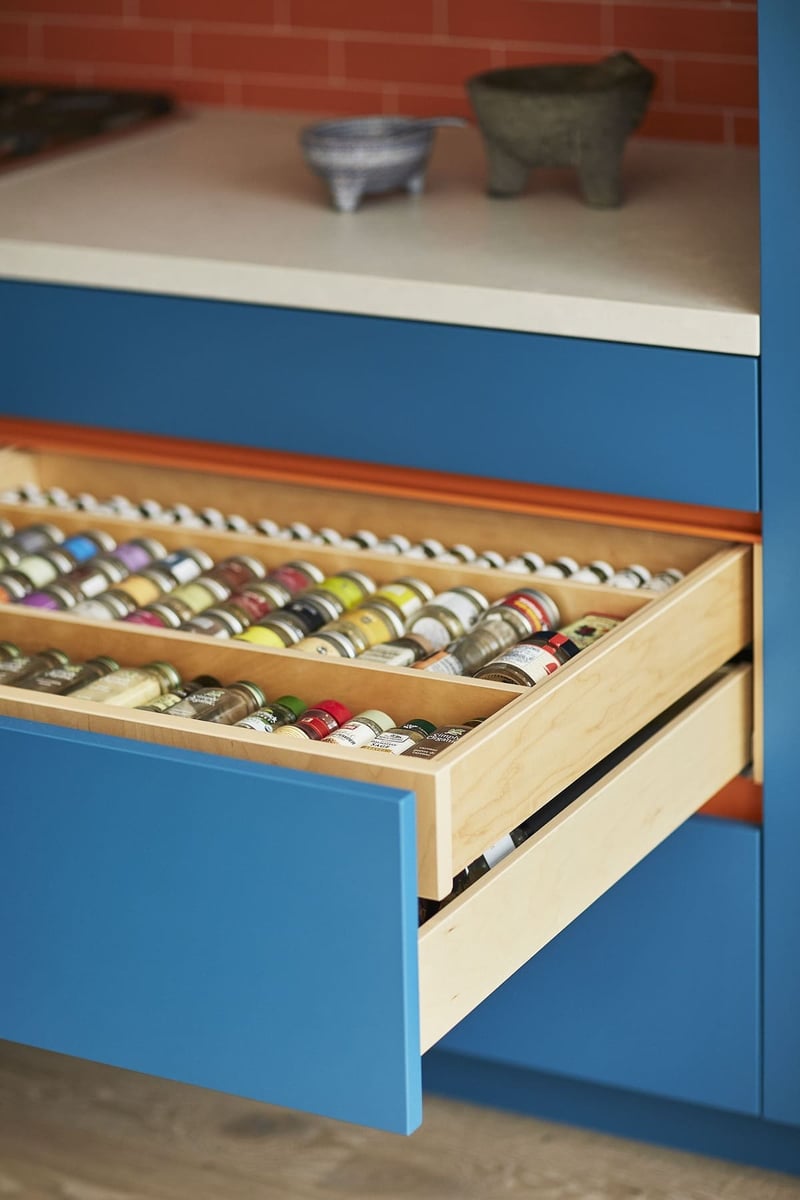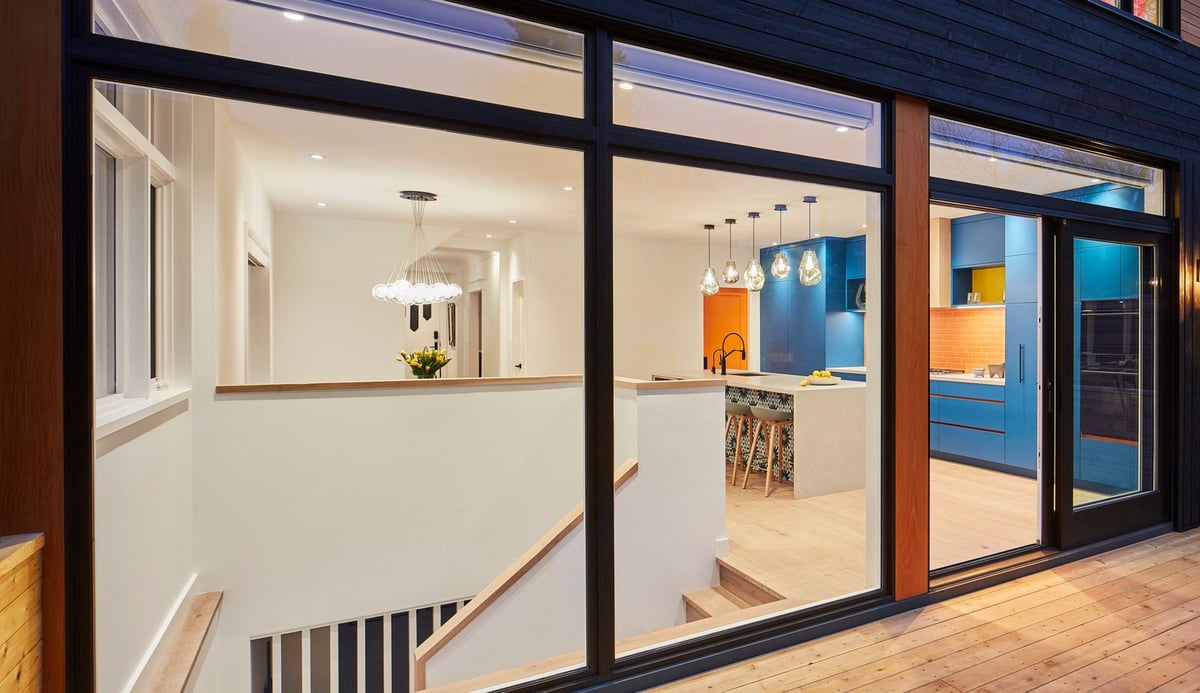 Basement Playroom Wonderland
We created a basement living space by underpinning and finishing the basement. Underpinning involves strengthening the foundation of a building by extending it deeper into the ground to create a basement with a height of 8 1/2 feet, where once the basement was only 6 ½ feet deep. From gleaming polished concrete floors to neutral paint and finishing, this basement lets the furnishings and textiles star and focuses on creating a cheery and well-lit space, using the available natural light from the stairwell and expertly-placed task lighting.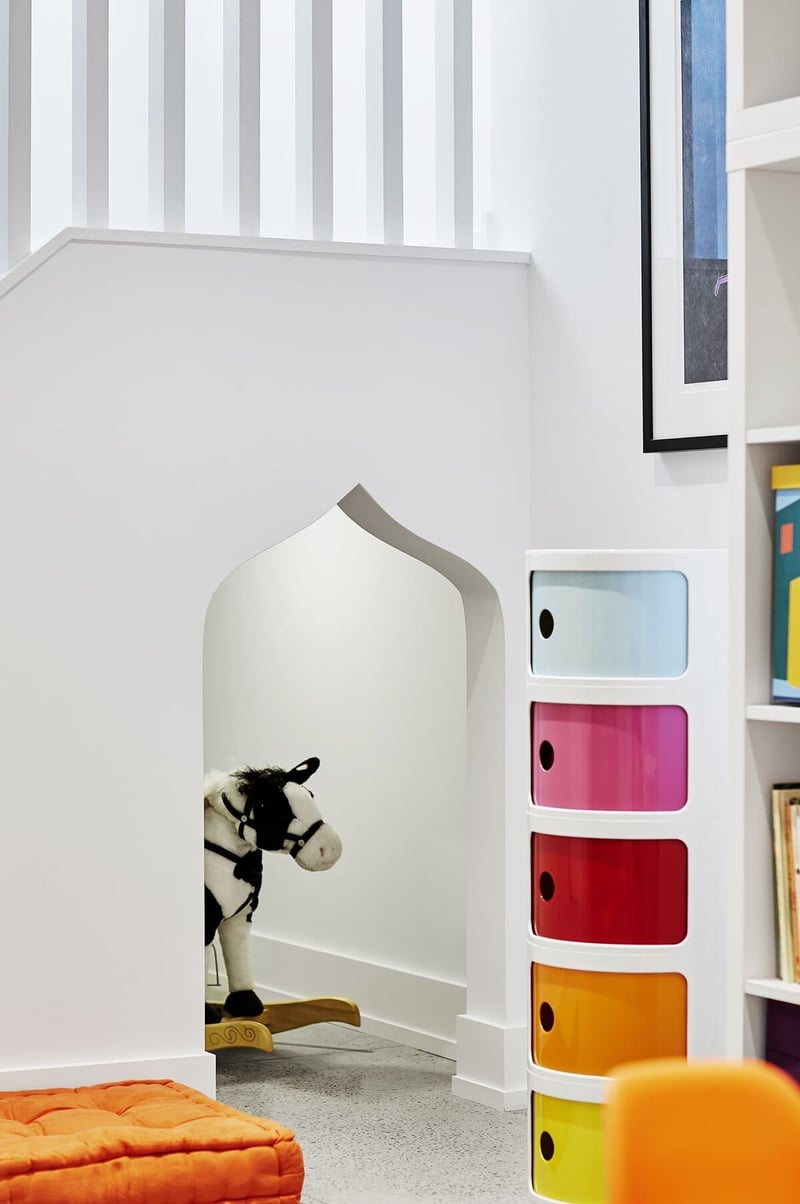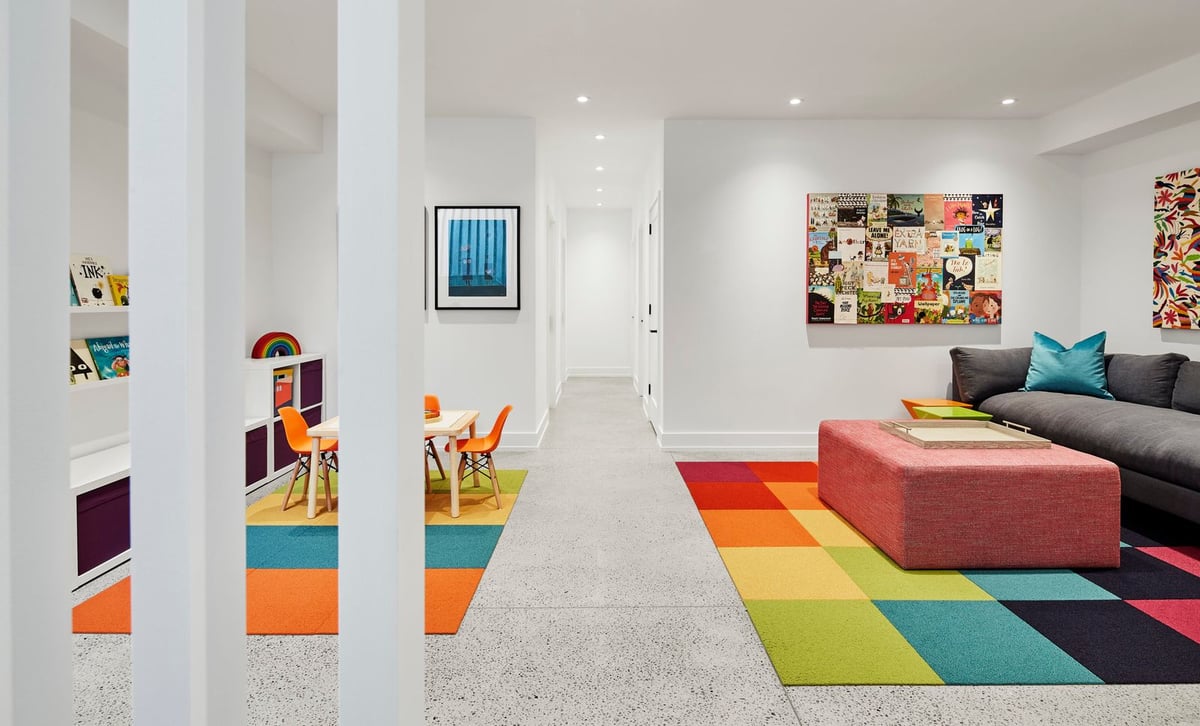 A Very Honest Reading Room
If there ever was an appropriate place to acknowledge the hours of quiet reading accomplished at home, the bathroom is perhaps the most truthful location for it. We love this library-inspired bathroom wallpaper and real-life reading bathroom bookshelf blended in to make it easy to make good on the rooms' suggestions. Again, the bold colour on the ceiling reminds the powder room occupants that this home is a love letter to colour from which there will be no retreat. While the aesthetic is all fun, this powder room design features a floating vanity for ultimate function and accessibility.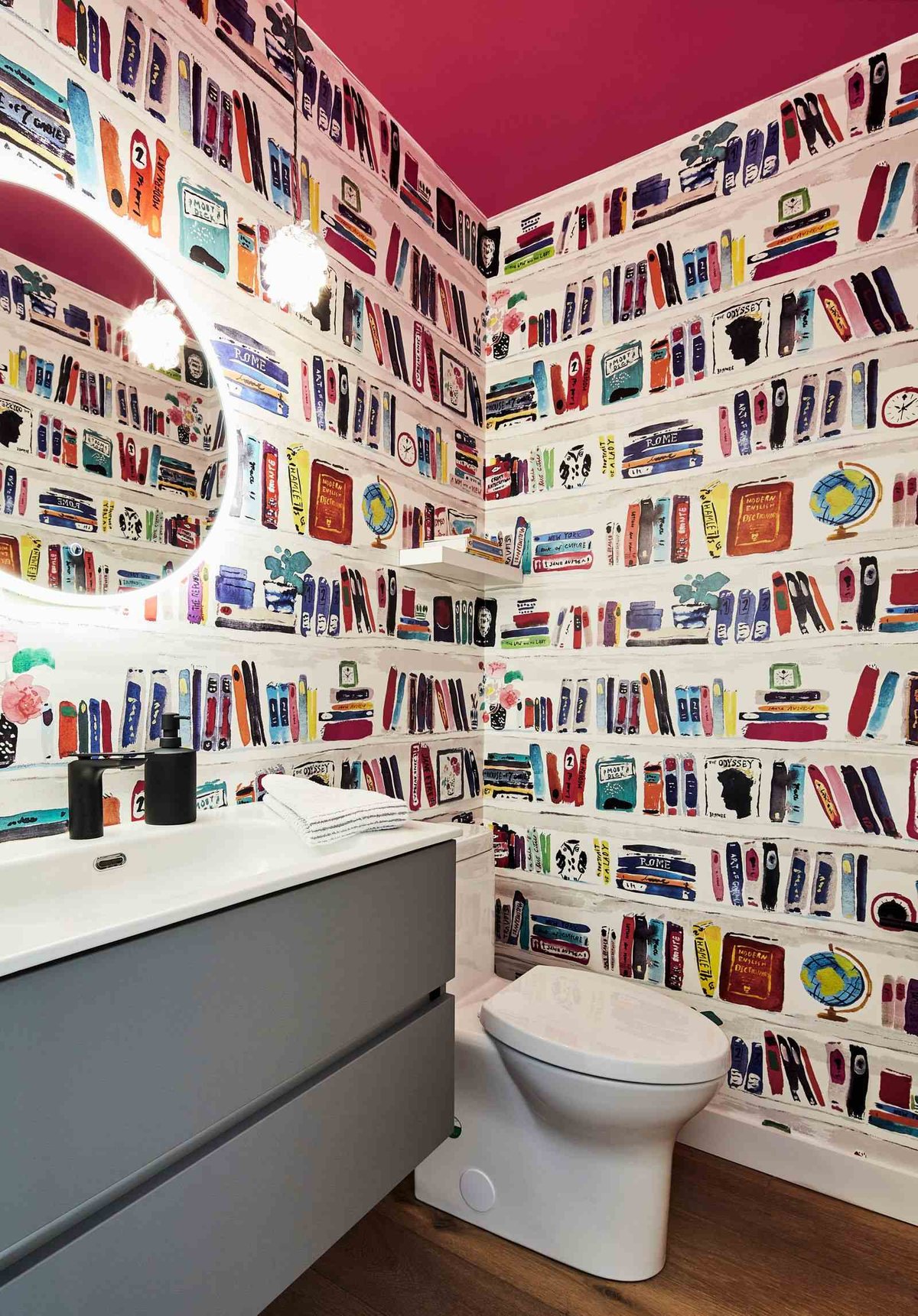 Colourful Fixtures Unlock Bathroom Fun
The upstairs kids' bath marries spa-like serenity with whimsy and play. The inspiration for this cheery colour palette came from the happy discovery that the manufacturer for this project's faucets and other plumbing fixtures offered an interesting array of colours outside of the norm. Our client opted for unique seafoam and curated the other bathroom details, such as the spray-applied lacquer on the vanity to match. Not everyone reaches for orange when tasked to find a complimentary shade for muted green, but this playful orange porcelain tile tub surround features glowing vertical-stacked subway tiles to masterful effect. The patterned porcelain floor tile finishes the look with a perfect pop.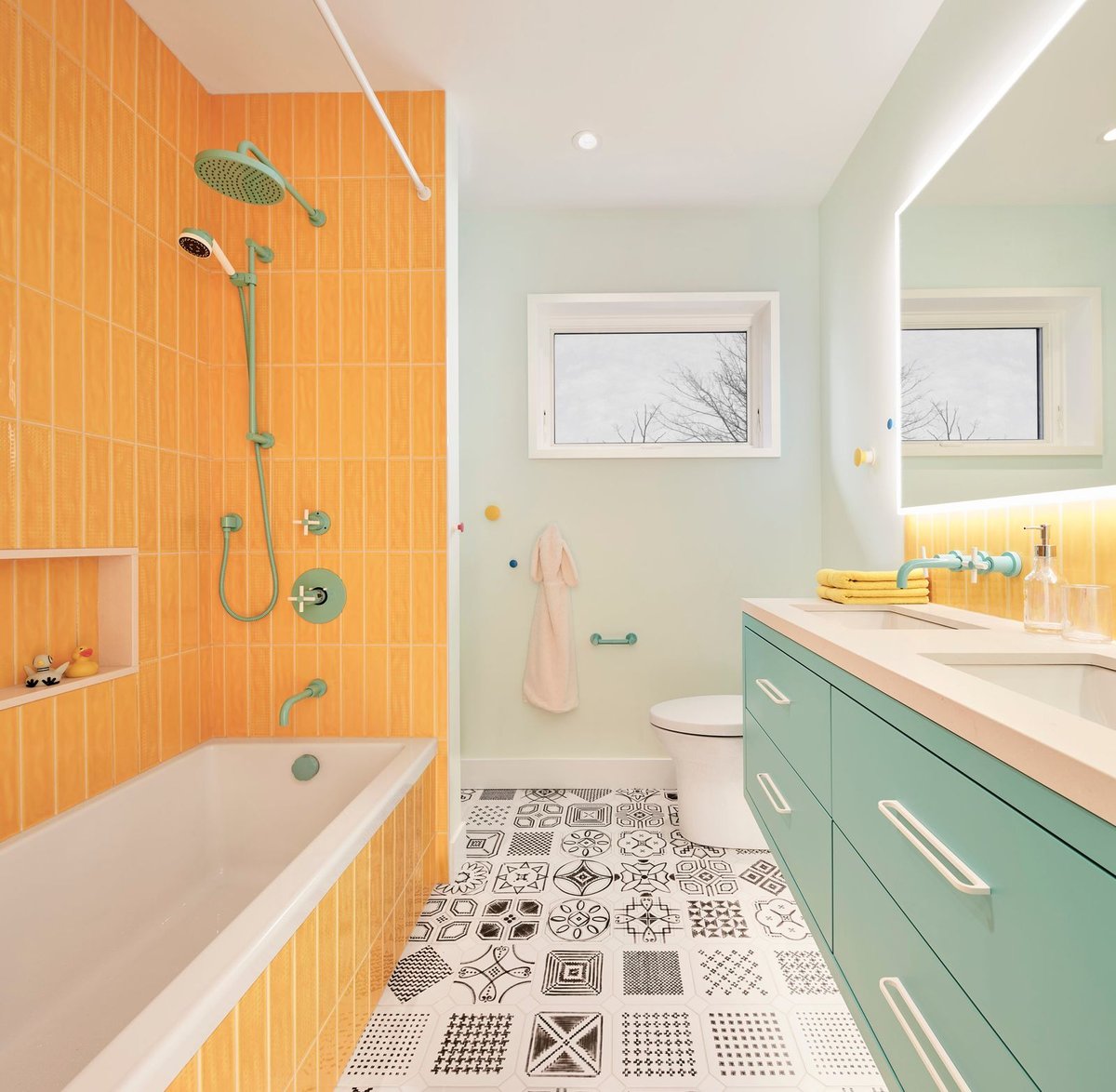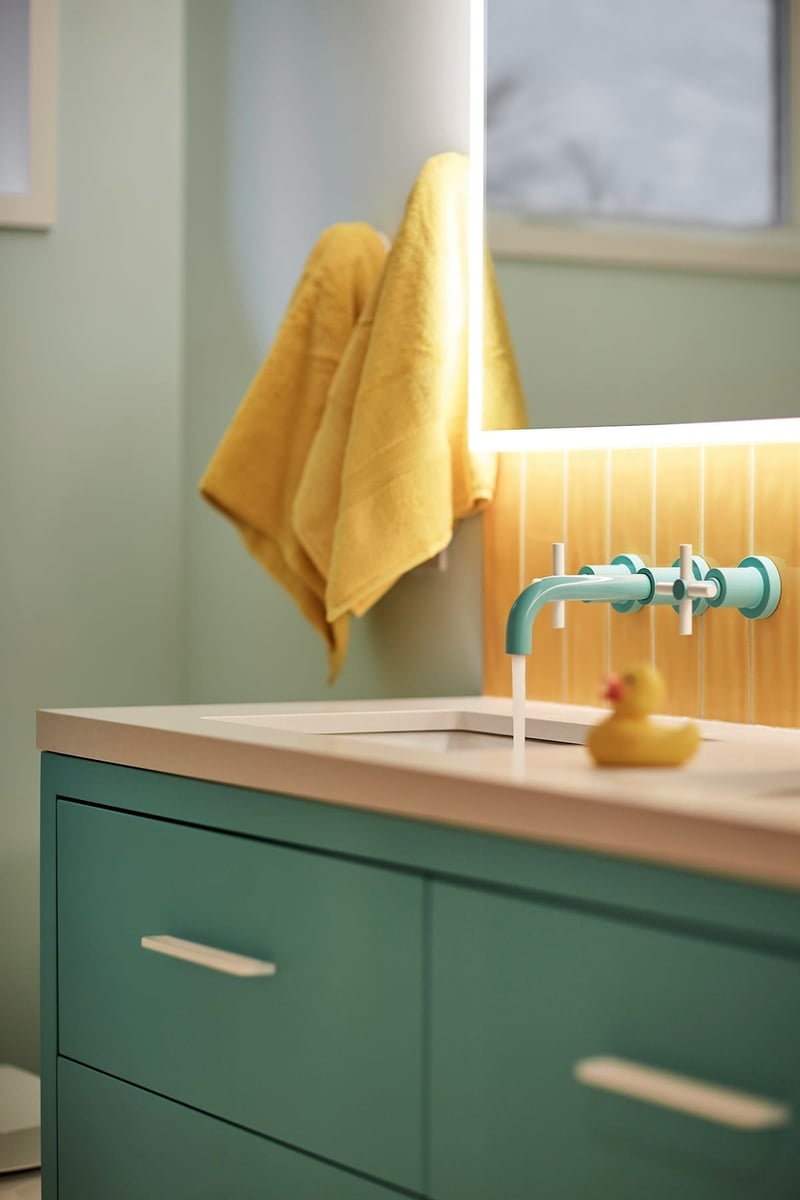 Millwork to the Max
Millwork is the quiet hero of this project. Each custom cabinet, from the laundry room to the bold kitchen cabinets to the bench above the basement stairs, features quality millwork from a trusted local expert. Marrying the vision for modern fixtures at home in an old house with broad and thoughtful deviations into vibrant colour makes these cabinets a true masterpiece. The beauty of durable spray-lacquer is the fantastic performance under hard use, making them perfect for this vibrant and busy family. Note the intricate detail and thoughtful colour placement on the cabinets. The pops of orange in the blue kitchen cabinet doors are our favourite example of this.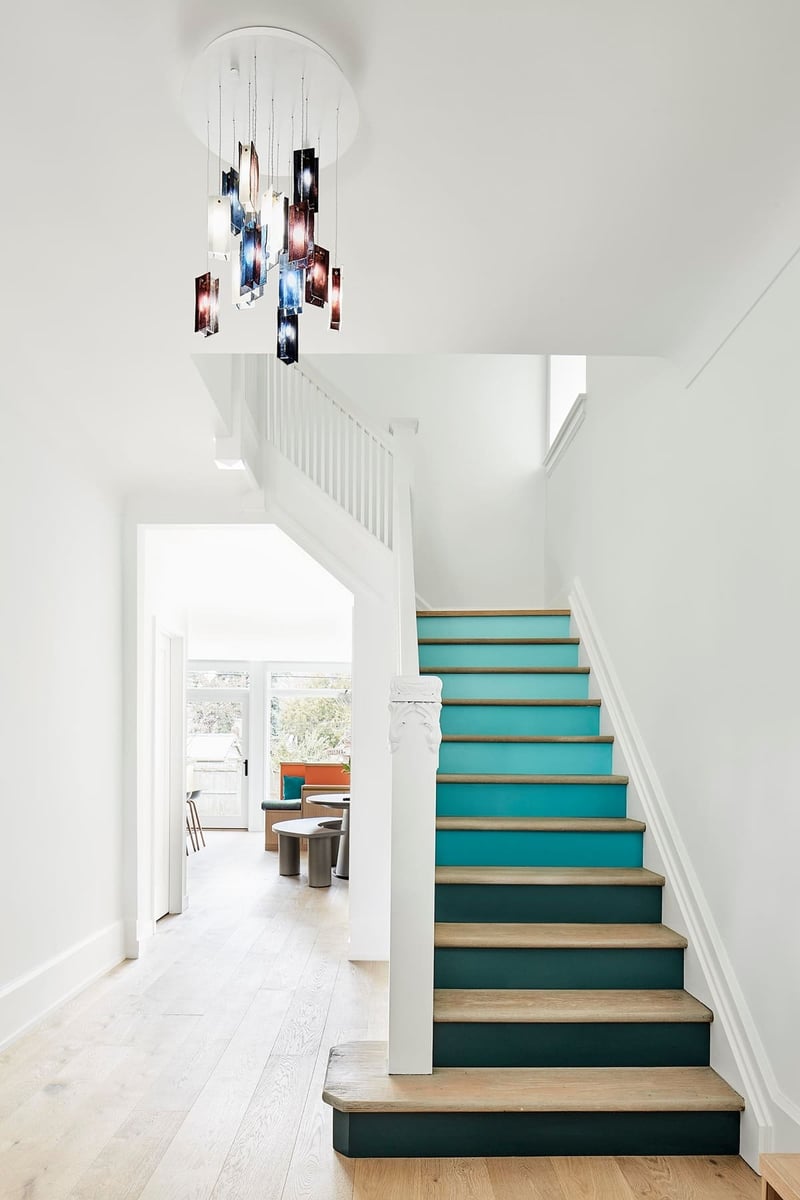 Bold Basement Laundry
Basement laundry features earthy green cabinets, polished concrete floors, and hexagonal penny tile backsplash in cheeky orange. We love this orange and green colour scheme. Ample cabinet space, sink, and countertops in the laundry area mean there is always space available to tackle the inevitable laundry emergencies that arise in a family home.

Traditional and Transitional Details
We opted to only partially gut the front area of the home to preserve features that the family loved. In the entryway, we removed the coat closet and created an open drop-zone with a bench and coat hooks, flanked by period-traditional stained glass surrounded by new custom millwork. We repaired and repainted the grand staircase, allowing it to serve as a bridge into the more modern spaces surrounding it rather than create something new. While we mostly left the living room intact, we addressed small details and updates throughout the first floor such as the living room fireplace, and updated all flooring to engineered white oak for a cohesive experience.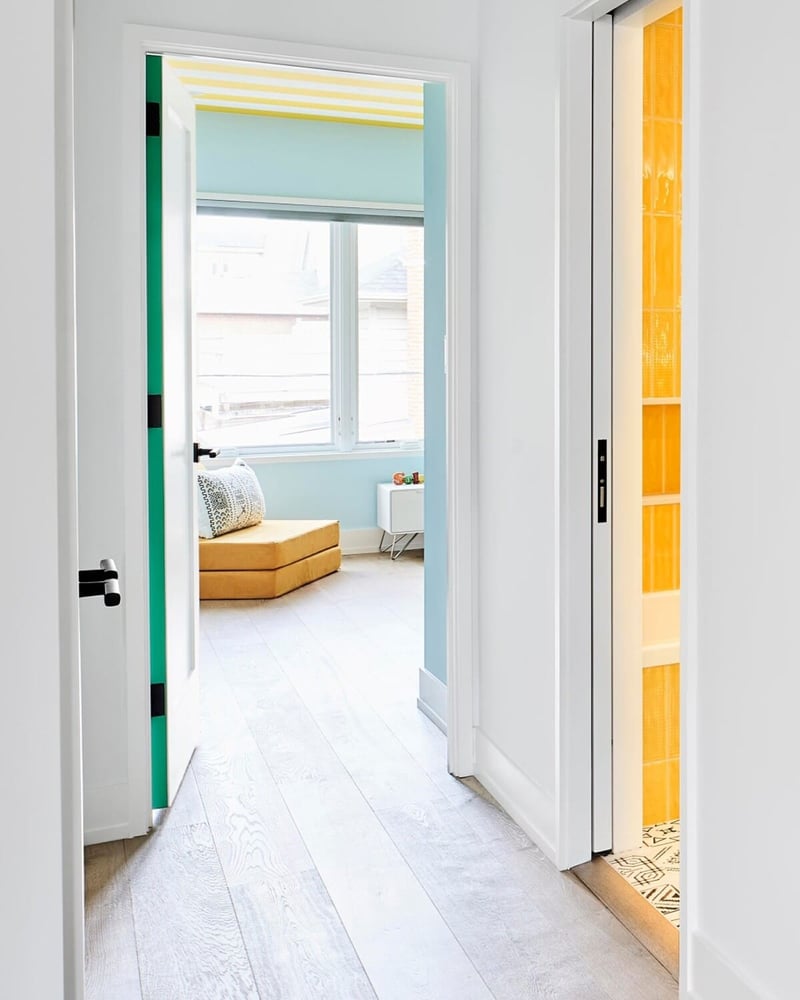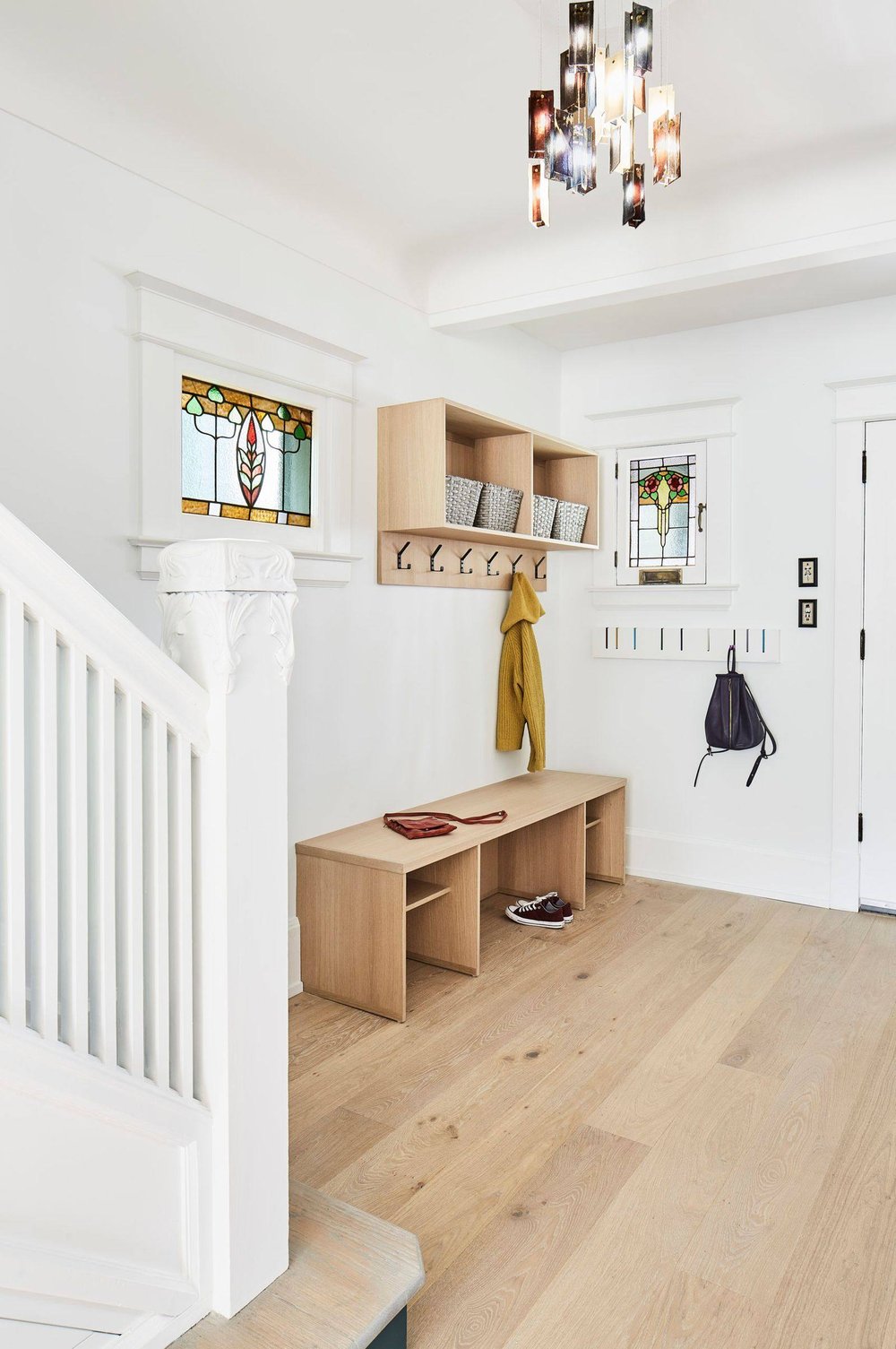 A Statement That Stands the Test of Time

We completed this home shortly prior to the COVID lockdown, so this family enjoyed their new haven during quarantine and continues to love how the home accommodates busy family life and fun. Need a builder for your luxury home renovation in Toronto? We'd love to lead the way on the path that results in your dream home. Contact SevernWoods today to get started.
Photography: Nanne Springer
Want to share our photos/projects? Contact us- we're creator friendly.
Location:
Playter Estates, Toronto
ARCHITECT:
Heather Asquith
We've Brought Over 170 Custom Projects to Life